Dan Berkman
Ben Kiel
There's been a minor media brouhaha over the fact that The New Yorker just launched a redesign for the first time in thirteen years. The news was featured in the New York Times, New York Magazine, the tech blog Gizmodo and various other design-centric blogs. The 88-year-old magazine itself produced a lovely little video with its creative director explaining to readers what they can expect to see in their next issue.
What all these accounts do not mention, however, is that the most "significant" component of the redesign -- the fonts, or typeface -- were worked on by St. Louis' own Ben Kiel.
"I had not seen The New Yorker until today, I finally found one," he tells Daily RFT. "It looks great."
Here's how the magazine announced the changes earlier this week, featuring The New Yorker's creative director Wyatt Mitchell:
In case you missed that, the original, iconic New Yorker font used in its nameplate, headlines and above "Talk of the Town" was created by the magazine's first art director, Rea Irvin in 1925. He drew inspiration from an old woodcut typeface from the book Journeys to Baghdad. (Irvin was also responsible for creating the monocled character "Eustace Tilley.")
About a year ago, The New Yorker's team hired Kiel, then employed at the design firm House Industries in Delaware, to rework and modernize the typeface now known as "Irvin." He also worked on the magazine's "Neutraface" font which is in the index and "Goings On About Town" section.
Kiel, a Washington University alum, moved to St. Louis with his wife about a year ago and the New Yorker project came with him. He's now teaching design at his alma mater and has started his own firm, Typefounding. He continued to work with the magazine staff from afar.
"Through the in-house process they decided to do a couple more versions of Irvin. It became much more prominent in the redesign," says Kiel. "They wanted to bring a lot of ligatures, as they say -- overlapping O's, nested characters, raised vowels, things like that."
Rather than risk showing our own ignorance of typeface terms, we asked Kiel to write out his own description of the subtle changes he made. Here's what he sent back:
Neutraface had it's proportions and details modified. Irvin Display is a reworking of the original digital Irvin to have a higher contrast, sharper details, and a bevy of ligatures and alternate letters which draw their inspiration from how Irvin was used in early issues of the New Yorker.
Take a at the finished product after the jump, plus an exciting project Kiel is bringing to St. Louis.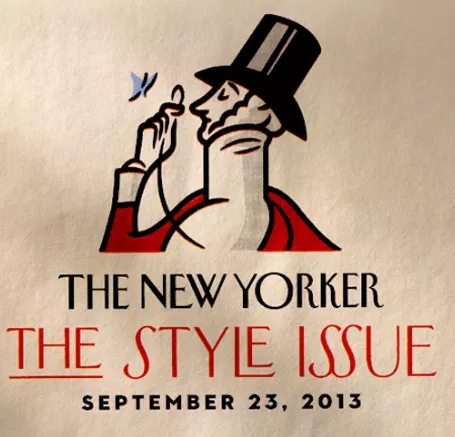 Courtesy of House Industries
Courtesy of House Industries
"It is very exhilarating," says Kiel, now that the work is public and on newsstands. "I think it's part of the process to kind of push it out of my head that The New Yorker goes to a million people...it's not often that you work on a project that instantly goes to that many people."
He says he's prepared for the backlash -- there often is when a cultural institution like the New Yorker makes any minor change -- but says so far the feedback has been positive.
"It's not a huge redesign, it's definitely different. I think it's definitely in the spirit of the magazine," Kiel says. "But, you know, any publication that changes the typeface, it doesn't matter whether it was a good redesign or a bad redesign, there's always people who hate it. Publications become these partners and friends, when that constant in their life changes it can be jarring."
Now that he's a permanent St. Louisan, Kiel is bringing his appreciation for typography and design to share with the rest of us. He's personally arranged for the movie Sign Painters, a documentary about the fast-disappearing art of hand-painted signs, to do a one-night-only screening at the Tivoli on Thursday, October 10. And it looks awesome:
Buy advance tickets for the movie here and pick up the latest issue of The New Yorker to see Kiel's work -- on stands now.
Follow Jessica Lussenhop on Twitter at @Lussenpop. E-mail the author at Jessica.Lussenhop@RiverfrontTimes.com.