Really Big Coloring Books
Wayne Bell was not a fan of the now infamous Rolling Stone cover of the Boston marathon bombing suspect Dzhokhar Tsarnaev. Which is why he created a coloring book for children that parodies the controversial image.
"He's a very, very horrible individual," Bell, publisher of Really Big Coloring Books Inc., tells Daily RFT. "He's a murderous thug and he needs to be seen as such."
Bell's coloring book company does not shy away from controversy. In 2010, he published the Tea Party Coloring Book For Kids. The following year he released We Shall Never Forget 9/11 (which, in a later edition, featured terrorist trading cards!). In March, he released Being Gay Is Okay.
Now, he's released Learn About Terrorism, featuring Tsarnaev, Fort Hood shooter Nidal Hasan and more.
See also: Suspicious Package Causes Alarm at Controversial Coloring Book Company
Learn About Terrorism (in which "learn" is actually an acronym for Leadership Education Acceptance Recognition Now) is a supplement to Bell's We Shall Never Forget 9/11 volumes.
Here's the full Rolling Stone page: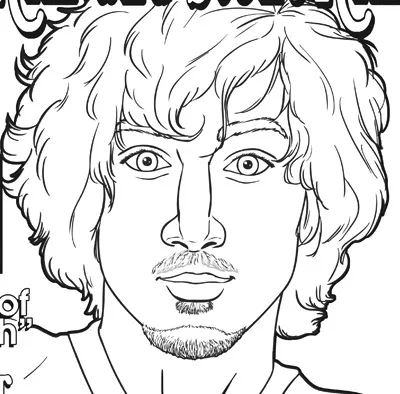 Really Big Coloring Books
Dzhokhar Tsarnaev.
Bell's philosophy is, "Tell the truth, tell it often, tell the children," he says.
"A lot of psychiatrists we speak to tend to think children need to be taught the truth above all else," he says. "It helps them grow to be a better citizen."
On Tuesday, the first day it was available, he had already sold around 1,200 copies in the Clayton store. (It's also available online).
There's no sugarcoating in the coloring book, which he says is meant to be used as a teaching tool for children.
"It's accurate and it's factual. And it tells them the absolute truth," he says.
Of the magazine cover -- which many criticized as glorifying the bombing suspect -- he says, "Rolling Stone is entitled to do what they think is appropriate for their readership. Never in my wildest imagination would I tell another publishing company what they should do with their product."
But, he says, "He's a murderer. He's a scumbag. He is not a rockstar. He is not a pretty boy. He's a mean, evil creature."
"You can't glorify any of these people," he continues of the Tsarnaev family. "You have to tell it the way it is."
He says he is not trying to beat up on Rolling Stone, but is simply giving readers what they want (he says after the magazine published the controversial cover, he got thousands of e-mails and calls from customers who wanted him to do something in response).
"You don't put this in the backpack of a child and say, 'Hey kid, go to school and color,'" he adds. "This is a piece for adult educators and teachers and parents to use with children as a teaching and learning tool."
The mock magazine cover is not the only controversial part of the supplement. Below are other selections that he sent to Daily RFT: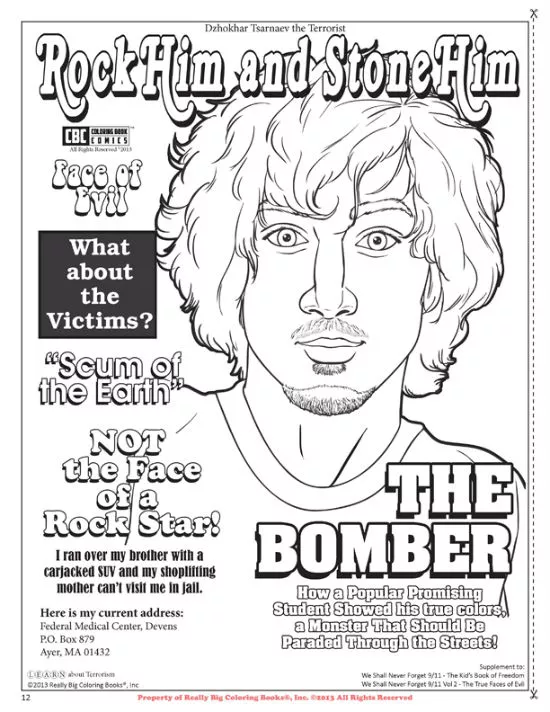 Really Big Coloring Books
Really Big Coloring Books
Continue for more samples...including the Benghazi page!
See also: Coloring Book Teaches Kids Art of Killing Muslim Extremists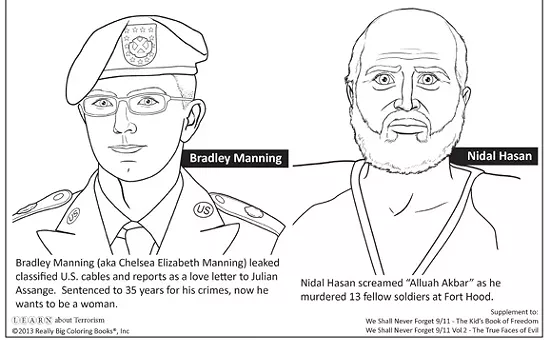 Really Big Coloring Books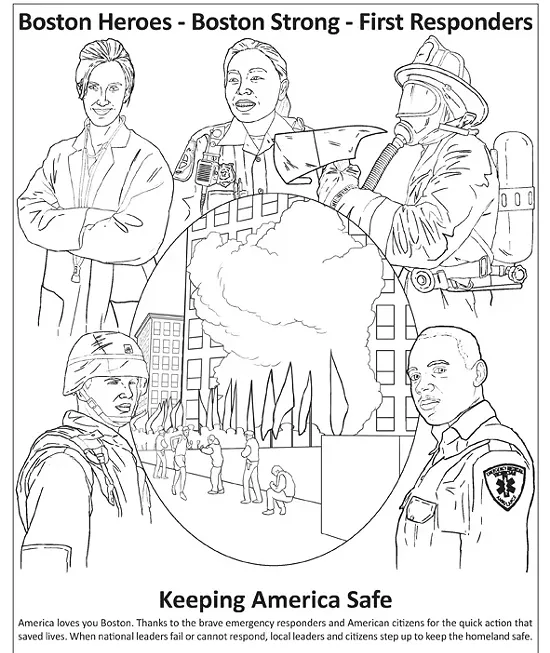 Really Big Coloring Books
Really Big Coloring Books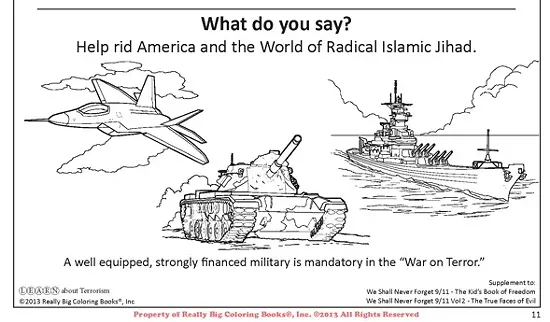 Really Big Coloring Books
Really Big Coloring Books
Really Big Coloring Books
Send feedback and tips to the author. Follow Sam Levin on Twitter at @SamTLevin.