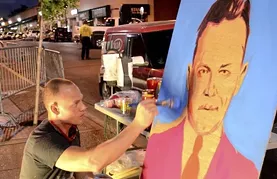 Photo by Jamie Schroeder
Artopia 2012.
On August 29, RFT Artopia will return for its sixth gala celebration of the arts in St. Louis. The 2720 Cherokee Performing Arts Center (2720 Cherokee; 314-875-0233) will be crammed with live performances of the musical and visual flavor along with a fully decked-out fashion show. Expect the two-story building to bustle with the brains behind many local masterworks, as well as outlandishly dressed attendees.
We here at RFT couldn't be more excited for the MasterMind Awards. Many artists go forth with much effort and little pay. Each year, we sling a few $1,000 checks out to lucky local artists. Although nominations are now closed, please join us to celebrate the four recipients of this year's MasterMind Awards.
Tickets will cost you $30 in advance, $35 at the door, but be on the look-out for a daily deal that cuts the price in half. If the dessert bites and three full size drinks just aren't enough, the VIP tickets ($50 in advance, $60 at the door) include access to the private lounge with catered food by Seoul Taco, 5 drinks and a gift bag. The food and drink here are reason enough to take the dip, but the unpredictable, outrageous entertainment certainly sweetens the pot.
See also: - RFT Artopia Returns to Cherokee Street; Ticket Presale Begins This Week - Introducing the 2012 Riverfront Times MasterMind Award Winners
Continue for the list of artists, performers, food and vendors.
Featured at the 6th Annual RFT Artopia:
Entertainment - Live music by Jazz/pop musician Mathew Dale - Live music by DJ Who - Live aerial arts by Bumbershoots - Tango dance demos and performances by members of COCA - Outdoor Fashion show (styles by Retro 101 and CLR MNSTR) - Unique Lingerie Fashion show by Sugar Magnolia - Dance performance from Team 2.0 - Light up dance performances by STL Hoop Club
Food - Complimentary dessert bites by Kakao Chocolate - Food for Purchase, in the outdoor street fest, by 4 area food trucks (Bombay Food Junkies, La Tejana Food Truck, Seoul Taco, Brazil Express by Yemanja) - Ice Cream for Purchase outside by I Scream Cakes
Art - Film Expo and Visual Collaboration by Jerod Welker (Film Maker), Peat Wollaeger (International Stencil Graffiti Artist), and Jake Wheeler (Welding Artist) - Jerod Welker's Film Trailer of the upcoming documentary on Peat Wollaeger - Live Art by artists from RAW and Art Dimensions
Vendors - Stl Style - Firecracker Press - Chaos Emporium - Show Me Cannabis - Thomas Construction - American Lasers - Spinbliss local art site - Bonfyre App
RFT's 6th Annual Artopia! Presented by Beck's & Beck's Sapphire Thursday, August 29 7:00 - 11:00 pm 2720 Cherokee Performing Arts Center (2720 Cherokee Street, St. Louis, MO 63118)
GA tickets ($30/advance, $35/door) include: Dessert bites, 3 full size/sponsored drinks, and entertainment! VIP tickets ($50/advance, $60/door) include: Dessert bites, a private lounge, 5 drinks, a Gift Bag, and entertainment.