Update: Heave a sigh of relief, Missouri! Turns out this idiot wasn't one of ours after all.
Missouri is Awesome? Not in the eyes of the international art history community.
An unidentified 55-year-old man from Missouri is making international news this week after he damaged a priceless statue in a museum in Florence, Italy.
The man was visiting the Museo dell'Opera del Duomo (Museum of the Works of the Cathedral) with his family when he felt compelled to touch the 600-year-old work of art. A museum guard attempted to intervene, but it was too late.
See also: - "What The Hell Is St. Louis Thinking?" Project: Artist Addresses Criticisms of Racial Bias - Washington University Senior Documenting Familiar Faces in Delmar Loop - Photos: 12 Worst St. Louis Crimes, July 2013
According to multiple reports in the Italian press, the man was either trying to "high five" the statue or "measure" its extended pinky finger because...??? Daily RFT's favorite description of the event comes from a rather poor Google translation of an article from Corriere Fiorentino:
The guy in the guard room, incredulous, just guessed what he was doing the U.S.
Yes, we're all guilty of doing the U.S. from time to time, but this guy really stepped in it. According to the same report, he tried to casually exit the room but was stopped by guards and reported to the local police. He will likely be responsible for the cost of repairing the artifact.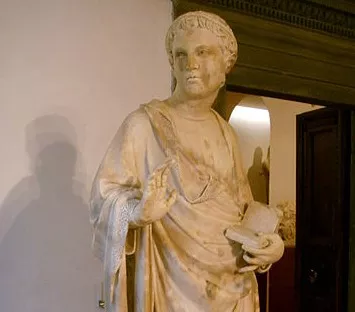 Sailko, Wikimedia Commons
The statue before it was damaged.
Luckily for everyone involved, the finger was actually not an original part of the artwork, but rather a plaster restoration.
A useful reminder to us all -- whether close to home or acting as an ambassador for the Show-Me State abroad, when in a museum keep your Hoosier hands to yourself.
Update: Contrary to reports from the Italian media, it turns out the finger snappin', toe tappin' tourist is not from Missouri. He's actually a surgeon named Patrick Broderick from New Fairfield, Connecticut, according to the UK's Daily Mail. He was arrested after breaking the statue's hand, but was not charged and may not even have to pay for the damage.
Follow Jessica Lussenhop on Twitter at @Lussenpop. E-mail the author at Jessica.Lussenhop@RiverfrontTimes.com.