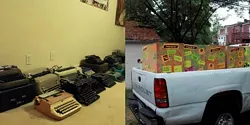 Typewriters and platforms heading off into the world.
Henry Goldkamp, known as St. Louis' buskering poet, has a new project that has been getting a fair amount of attention in the local media lately, called "What the Hell is St. Louis Thinking?"
At locations all over St. Louis, Goldkamp dropped typewriters on handmade podiums. There are 25 out right now and they can be found at City Museum, Sasha's Wine Bar, Melt, City Diner and CBGB, just to name a few locations. Anyone is welcome to step up and contribute their thoughts, and Goldkamp will eventually compile the best entries into a book.
This weekend, Goldkamp picked up the day's writings from the City Museum and noticed a comment that stopped him cold: "i think that all these typewriters are located in areas with the same or similar demographics and dont really represent the community, as they will only get thoughts from white hipsters or tourists."
See also: - St. Louis Has a Busking Poet. This Kind of Stuff Makes Our City Cool - Parody Patrol: St. Louis Filmmaker Creates Hilarious, Fake Commercials (VIDEOS) - Washington University Senior Documenting Familiar Faces in Delmar Loop
"It really kind of hit me hard," Goldkamp tells Daily RFT. "It was really disheartening, but at the same time it's been my number-one fear, that this doesn't represent all of St. Louis."
Even before the comment appeared over the weekend, he fretted that he might have trouble capturing a true cross-section of St. Louis, racially and socioeconomically.
"I thought, 'Man, I need black people, and I don't know that many black people, to be honest. How am I going to do this?'" he says. "St. Louis is so segregated, not just by race, but just thinking about the fucking question, 'Where did you go to high school?' There's so many immediate judgments made."
Henry Goldkamp and a young author.
So Goldkamp has a new game plan. He's extending the deadline past August and says he'll put a typewriter in all 79 St. Louis neighborhoods for at least a week. He's hoping to place them not just in businesses and tourist attractions, but in places where real life is happening -- schools, nursing homes, strip clubs, casinos. And he says he's yanking some of the platforms from areas that are too...expected.
"I'm actually pulling everything from Cherokee and South Grand by next weekend," he says. "They've already contributed enough. I have plenty."
He's also put out the call for individuals to take a typewriter into their home, keep it for a day or two, then pass it to someone they know. Then that person would give it away after a day, ideally to someone who doesn't know the person who gave it to them in the first place. He hopes this will lead to the typewriter "bleeding through the neighborhood" and may solve his diversity problem.
"I want every aspect. I want every neighborhood," says Goldkamp. "The beauty of it is it puts everyone at the same level."
If you're interested in adopting a typewriter for a day, e-mail Goldkamp at henry@freshpoetrystl.org, or find him on Facebook or Twitter.
Follow Jessica Lussenhop on Twitter at @Lussenpop. E-mail the author at Jessica.Lussenhop@RiverfrontTimes.com.