Courtesy White Flags Projects
Someone out there in St. Louis is working really hard to cover our asses.
White Flag Projects founder and director Matthew Strauss says he arrived at 10 a.m. yesterday morning to discover someone had vandalized a large print hanging outside the gallery (4568 Manchester Avenue, 314-531-3442). The image is a promotion for the art nonprofit's current photography exhibit, Coconut Water.
"It's an unpleasant reminder of what you're up against sometimes with this kind of thing," Strauss sighs.
See also: -Total Exhibitionist: Matthew Strauss has audacious plans to remake the city's art scene
The print has only been hanging for a couple of days and is an adaptation of a photograph entitled Zachary by Ryan McGinley, a renowned New York City-based photographer whose work often features nudes, at times in surreal settings (check out more of his work here).
However, someone who was roaming the Grove neighborhood early yesterday turned vigilante censor. The vandal covered the model's nether regions -- or "side butt" as Strauss calls it -- with a roller and some white paint.
"It's not like it's full-frontal male nudity," says Strauss. "It's a very classically composed portrait by internationally recognized artist."
Click through for more photos and the response of the artist.
Here's another before and after look: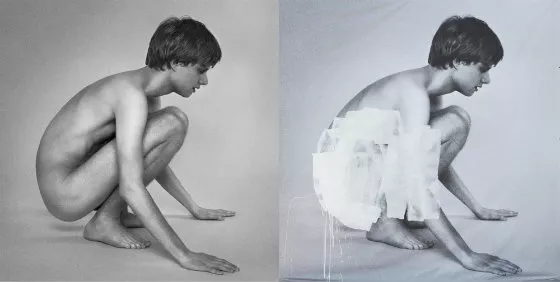 Courtesy White Flags Projects
No butts about it.
When Daily RFT spoke to Strauss, he had not alerted police and isn't sure if he will, saying he doesn't think it'll do much good. He says he checked around the area and a nearby Dumpster to see if the perpetrator left his roller, but didn't find anything.
He did, however, say that one of his staff members noticed a man in a van, smiling and waving, and seeming to be gesturing at the print.
"Maybe that was a return to the scene of the crime," he muses.
Strauss say another part of his hesitation about calling the cops is he doesn't want to give up the print. He alerted the artist and offered have the work reprinted, but McGinley -- not one to get butthurt over a critic -- sent back word that the print should remain hanging as it is for the duration of the exhibit (May 4 to June 15).
"I think it says something very different to let it remain there," say Strauss. "It speaks to something completely different now."
As to who he believes could have done something like this?
"I have this fantasy now of this angry homophobic house painter driving by," Strauss says.
We'd love to know what the rump-us is all about. If anyone knows more (or wants to take credit), give us a shout.
Follow Jessica Lussenhop on Twitter at @Lussenpop. E-mail the author at Jessica.Lussenhop@RiverfrontTimes.com.