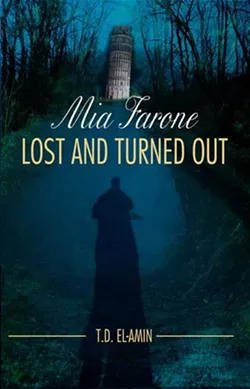 T.D. El-Amin's debut novel takes place in Italy and St. Louis but was birthed in Montgomery, Alabama. Specifically the federal prison camp in Montgomery where El-Amin served nearly eighteen months in 2010 and 2011 for soliciting and taking a bribe as a Missouri state representative.
"For me, writing was a way to express myself and my desires," El-Amin tells Daily RFT. "In prison you have to create a world for yourself, and that world has to sustain you. The characters in my book did that. They kept me company."
The novel, Lost and Turned Out, follows a mixed-race woman named Mia Farone as she is uprooted from Tuscany and transplanted to America. The 42-year-old El-Amin says he drew on his travels in the Navy while composing the book in his cell.
"All the places -- the restaurants, the hotels -- are real," he says. "There is a degree of authenticity."
Still, El-Amin acknowledges that the writing wasn't always easy given the restraints of prison.
Related content: - Feds Say Photos Show T.D. El-Amin Taking Bribe - T.D. El-Amin Pleads Guilty to Bribery Charge
"I didn't have a computer or even a typewriter," says El-Amin. "I had to write it long-hand. Sometimes the lights would go off, and I'd be in my bunk and have an idea. I'd write it in pencil on the wall. It wouldn't be that legible in the morning, but I could make it out."
Continue on for more about other books El-Amin has in the works and his thoughts on his corruption charge.
El-Amin credits an elder bunkmate with prodding him to continue on with his writing, an exercise that often took place in the wee hours of the morning inside a common area in the minimum-security prison. After his release from prison in April 2011, El-Amin typed up the work and self-published the novel last October. While in prison he also began writing two sequels (one is finished, and the other is three-quarters complete) that continue Mia Farone's story.
He has also begun work on a guidebook that offers families advice on how to survive an incarceration. (El-Amin says his marriage to Yaphett El-Amin, a former state representative herself and a political activist, is stronger after prison than it was before.) Another nonfiction book will address the bribery case that brought about his downfall. El-Amin tells Daily RFT that he's trying to put the incident in the past, but there is a lot more to the official story -- in which he pleaded guilty to soliciting a $2,100 bribe in return for helping a businessman obtain permits.
"I'm not one who continues to relive that and be overly apologetic because my family has paid a tremendous price," says El-Amin who has also hosted a radio show on WGNU (920 AM) and done some work for the St. Louis Argus since his release from prison.
El-Amin reads from Lost and Turned Out this Friday at 7:30 p.m. at the Missouri History Museum. Copies of the book can be purchase through El-Amin's website, tdelamin.com.