Yesterday the website Apartment Therapy published a "House Tour" of St. Louis-based painter and sculptor Mary Sprague's studio/living space in the Locust Business District.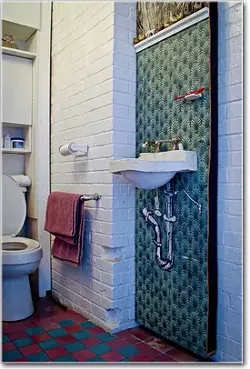 Like the artist herself, the loft and the photoessay are very cool.
The post, which includes a slideshow and a mini-profile of Sprague, was written and photographed by St. Louisans Ann Manubay and Dabney Frake.
"They did a helluva job and made me look mahvelous, don't you think?" Sprague responds when Daily RFT e-mails to ask how it all came about.
"Those two women are art-school graduates from Wellesley and moved back here recently cause the livin's easy." They're friends of Sprague's upstairs studio-mate Elisa Forgelman, who recently brought them over to meet her.
"It's all history from there on," Sprague says. "They made an appointment for the next week and before I had a chance to think twice, they arrived at the door. I was busy making my messes and told them where the bathroom was, if they needed anything just ask, go ahead and do whatever you do because I'm too busy working on St. Udio to micromanage -- or eat lunch for that matter. I did make my bed that morning. Fortunately."
The "tour," titled "Mary's Singular Live/Work Studio," includes a slideshow of two dozen images from Sprague's 4500-square-foot loft space (including the bathroom), along with comments from the artist, who came to St. Louis in the early 1960s after graduating from Stanford University. Sprague is professor emeritus of art and art history at Meramec Community College.
Sample:
Apartment Therapy Survey:

My Style: Realist/Absurdist.

Inspiration: Just about everything I see.

Favorite Element: Right now, form.

Biggest Challenge: Finding the right tool, either mechanically or in my head.

What Friends Say: "Are you out of your mind?" "I don't know what you are, but you're no minimalist."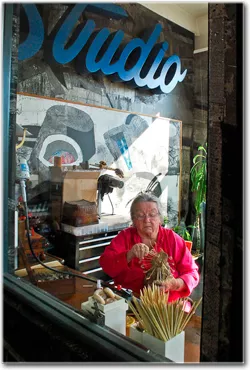 Another excerpt:
Creativity runs deep in her family, as shown by her daughter's realistic sink sculpture in the bathroom (complete with ceramic toothbrush and holder!) Similarly, her mother's collection of Kachina dolls, and trinkets from her own travels, encompass her sleeping area. A small-scale totem pole, hand-carved by her father, occupies another honored corner.
Frake, who "cobbles together" a living as a freelance writer and property owner/manager and sells vintage items through her website, Midmoderngoods.com, says she and Manubay thoroughly enjoyed the afternoon they spent with Sprague.
"Ann and I are taken with unconventional living spaces -- we ourselves live in a converted storefront that's also a live/work space -- and Mary's knocked our socks off," Frake writes via e-mail. "What constitutes 'home' is so different to everyone, and we love how she literally built hers up over time -- it's a great reflection of who she is and a life well lived. Even if you aren't an artist, that's what a living space should be: structured to suit your life, personal, filled with things that mean something to you, yada yada yada.
"Both Ann and I love Mary's honesty, how she puts it all out there, and her sense of humor about what she does. We love people who have internal compasses that drive them forward (or sideways if that works for them), and Mary is one of those people."
Frake says she and Manubay have photographed about twenty homes in the area, the first of which was Galen Gondolfi's on Cherokee Street.
Editor's note: I'm as biased as biased can be here. I've known Mary Sprague longer than I can remember; the Spragues were family friends the entire time I was growing up, and since I was a teenager I've been known to call Mary "Mom," entirely without irony.
You may have to take my word for what a singular human being she is, but you can check out Apartment Therapy for a glimpse, and for proof of what a singular living/working space she inhabits. --TF
See also: - RFT visual arts review: Mary Sprague "Rhinoceros!" - RFT visual arts review: Mary Sprague "Retrospective"