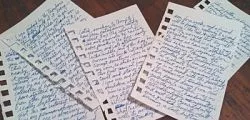 In the summer of 2011, a mysterious series of 100 letters began making their way from Atlanta to various parts of the United States, including to the office of Riverfront Times. Each letter contained a typed excerpt from a longer piece of writing, a ten-dollar bill and a handwritten note. The note explained that the money was real and that the whole packet was part of an elaborate community art project orchestrated by an entity identified only as Narrative Urge.
Several recipients published newspaper articles about the letters and one enterprising soul even established a Wiki so people could pool information. But the whole mystery was not untangled until this past November when Narrative Urge revealed himself to be Randy Osborne, a writer who currently lives in Atlanta but who, many years ago (from 1990-'94) wrote for RFT.
Narrative Urge, Osborne says, was intended to combine art, storytelling and writing with commerce, in the most counterintuitive way: Instead of you paying for the art, the art would pay you.
Now Osborne has another project underway and he got back in touch with us last week (but via e-mail, alas) to tell us all about it.
In 2013, Osborne intends to hand-write a letter every day to...someone. For the first few days, he was writing to friends, but he hopes that in the coming weeks, people will write to him, either through his website or Facebook page, with their addresses. And then Osborne will write them a personal letter.
That's it. There's no mystery, no money, no literary quotations (all, it turned out, from Atlanta-area writers, with the exception of the one from Leonard Cohen) which, when strung together, turned out to be part of one elaborate narrative. The impetus was very simple: Like just about everyone born before 1980, Osborne once regularly wrote and received letters through the mail. Thinking about those days made him nostalgic.
"I've seen some services, mostly on Etsy, where you can hire someone to hand-write a letter to someone you know," he says via phone. "It's one of the saddest things I've ever heard -- crappy handwriting and all."
Randy Osborne and one of the Narrative Urge letters.
Osborne's first letter, a sort-of prototype for the ones to come, is addressed to a friend in Chicago and written on paper torn from a notebook, starts off by explaining the letter-writing project, then veers off into musings about how, although he learned the Palmer method of penmanship in elementary school, his handwriting now resembles his own father's. What other things, he wonders, do we inherit without realizing it?
"It's a stream-of-consciousness thing," Osborne explains. "I want to show that people can write letters in this way. The stuff that comes out is fascinating. I'm not worried about running out of things to say. I've never been unable to write or talk. Did you know the term writer's block didn't exist until the 1940s? That's when the stakes for writing got high. It became about marketing, or grades, or getting into a better university. Before, people just sat down and wrote."
So far, Osborne has amassed about three months' worth of requests for letters. Naturally he hopes he'll eventually receive the full 365, but if he doesn't, that won't stop him. He'll continue to write a letter every day and send them to people who he already knows (and, more to the point, whose addresses he already knows).
"Or," he says, "it could become something else."
As he tried to show the people unwittingly roped into Narrative Urge, you just never know what will happen when something odd stumbles across your path.