St. Louis street art has finally hit the river. Graffiti taggers recently left their marks on the rusting hulk of the U.S.S. Inaugural, a World War II-era minesweeper that now rests on the banks of the Mississippi River, about a mile south of the Poplar Street Bridge.
Water levels on the river between St. Louis and Cairo, MO are expected to reach record-lows this year, exposing more than just an industry in peril. Inaugural has been fully exposed this fall and accessible to intrepid taggers looking to lay claim to this sunken treasure.
Daily RFT went down to the U.S.S. Inaugural yesterday after noticing the handiwork of "Rat Fag" in recent news photos. A set of photos of the vessel that appeared in the Post-Dispatch last month show a bare deck, so the graffiti work appears to be quite recent.
Related content: - The Strange, Strange Tale of the U.S.S. Inaugural - State of Street Art: Vandalism or legit, it's not going away - Color of Law: St. Louis officials have more power than ever to regulate public art
The decommissioned minesweeper was a tourist attraction docked just in front of the Arch for 25 years until severe flooding in 1993 swept Inaugural straight into the Poplar Street Bridge--and an untimely watery grave (check out RFT's 2007 feature story for a full history of this strange vessel).
Usually when water levels are low about two-thirds of Inaugural is visible from vantage points along the shore (read on for directions). But after an especially brutal summer, river levels around St. Louis are nearing minus 5 feet and the entire hull is not only visible, but approachable (if you are careful, lucky and don't mind getting your toes wet).
Check out our photos: Correct us if we're wrong here, but that looks like one of Rat Fag's tags. St. Louis Magazine recently ran a pseudo-profile of one of St. Louis' most ubiquitous--and evasive--taggers.
"Cristo EdBox" appears to be the work of another prolific artist around town, EdBox.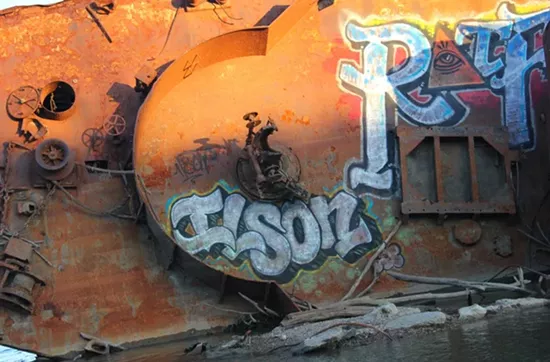 Check out this impressive pool of Flickr photos of St. Louis street art. Most street artists pride themselves in tagging hard-to-reach, unexpected places. Inaugural is certainly a prize.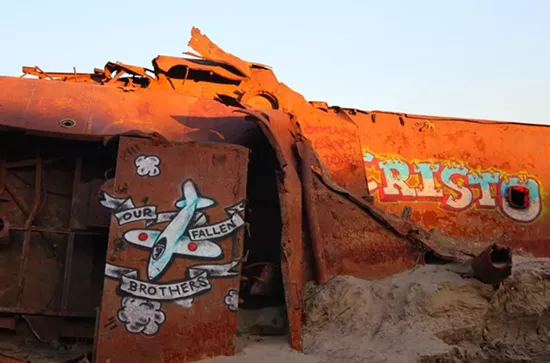 The U.S.S. Inaugural sits just beyond one of St. Louis' best concrete playgrounds for street artists. The walls along Wharf St. (a continuation of the Riverfront Trail's Lenor K. Sullivan Blvd) are covered in the work of local artists, from Peat Wolleager's unmistakable eyes to stunning large-scale pieces to the amateur scribbles of toy artists. The Wharf St. flood wall, which blocks in several construction sites, is actually one of the only legal sites for graffiti in Missouri. Really, it's pretty surprising that it took artists such a long time to take to the water just a few yards away.
How to find U.S.S. Inaugural: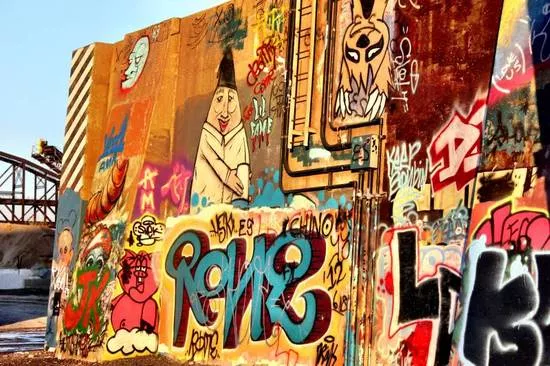 Leah Greenbaum
Wharf St. flood wall.
1. Park at one of the old warehouses along Wharf St. (or walk about a mile south of the Poplar St. Bridge) 2. At Rutger St., directly across from a red brick building, you'll see an opening into a construction site. Go in. 3. To your right (facing toward the river), you'll see a small hill, covered in weeds and field flowers. There should be a little path that will lead you to a good vantage point. The site is pretty clean, but do watch for needles, tetanus, and broken glass (i.e. wear boots).