Courtesy of Prison Performing Arts
Melton and Williams rehearse with PPA during their free time. The grey jumpsuits are standard-issue for inmates at MECC.
"Have you done some time in prison?" asks Raynell Brandon, talking like an infomercial narrator to his fellow inmates at the Missouri Eastern Correctional Center in Pacific.
"Having trouble adjusting to society? Solve all of your problems with our new spray, De-Institutionalize Plus! It works in seconds!"
The skit, a parody about a spray that magically eliminates the stigma of prison, is just one scene from Going Home, a production facilitated under the direction of Prison Performing Arts. Since 1989 the arts organization has put on dozens of shows and classes in correctional facilities around Missouri, but this is their first workshop to examine release and re-entry into society.
See also: --RFT's 2004 feature on PPA "All the Jail's A Stage"
Inside MECC's dingy rec room on a recent Wednesday afternoon, the inmates perform another sketch in which they daydream about homemade cherry cheesecake, bathrooms with real locks and hugs from family members. And in tongue-in-cheek fashion they extol the "virtues" of life inside this low-security facility.
"MECC is a charming gated community set in the rolling countryside just minutes away from Six Flags," comments David "Chaplain" Ross. "It offers..."
"The finest cuisine in town!" chimes in Taurees "Reese" Williams with a facetious grin, as the other inmates hold their stomachs and groan.
"Energy-efficient air conditioning in summer!" adds another prison actor, as the inmates pretend to wipe away sweat.
From the back of the room, MECC's warden Jennifer Sachse, a good sport, smiles politely.
"Special Canadian geese on the grounds!" inmate Lee Gough continues, sweeping his arm toward a concrete wall that leads to the prison yard. The men grunt once more and pantomime a regular routine: wiping bird shit off their shoes.
Virginia Lee Hunter
In one scene Lee Gough (right), as a relapsed criminal, tries to get Chris "Stretch" Melton (left) to sell drugs again for him.
For most of these actors, MECC is the last stop on their journey toward parole. According to the Missouri Department of Corrections, 97 percent of Missouri inmates will be released before they die, and nearly 21,000 offenders leave the state's prisons each year.
Outside the prison walls these former criminals often struggle to find jobs, reconnect with their families and stay on the straight and narrow amid the enduring stigma of being an "ex-con."
In one of the first scenes in Going Home, inmates Scott "Poet" Atchison and Stan "Shug" Hearns demonstrate just how difficult it is to win the trust of a potential employer. "Well, listen," says Atchison, playing the role of a self-important manager at a McDonald's. "You know, I'm looking at your résumé, and, well, how much time did you do?"
"Which time?" responds Hearns to laughter from the audience.
Atchison backs away slowly from Hearns, who looms high above him at six-foot-ten. "Ahhhhh. Let me be honest with you," Atchison says. "Let me explain some things about hiring you. You are very," he looks up at the towering Hearns, "impressive."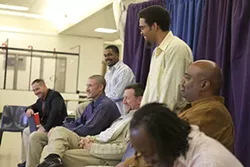 Virginia Lee Hunter
The company, from left to right: Scott "Poet" Atchison, Raynell Brandon (striped shirt), Chris "Stretch" Melton, David "Chaplain" Ross, Lee Gough, Stan "Shug" Hearns, and Taurees "Reese" Williams.r
Oblivious to the manager's fear of an ex-con with a long wrap sheet, Hearns follows him across the room until Atchison is backed into a corner, trembling like a child as he summons a security officer.
The bit is as much a commentary on societal stereotypes (Hearns is black, Atchison white) as it is slapstick physical comedy. Throughout the performance, the inmates manage to navigate similarly treacherous intersections with sincerity and grace.
Prison Performing Arts attracted national attention in 2001 when Public Radio International's This American Life dedicated an entire show to a production of Hamlet at MECC. Agnes Wilcox, the founder of PPA, says Going Home is a sort of rehearsal for the real thing. One of the most common fears among inmates, says Wilcox, is that they will fall back into bad habits once they're released.
One scene in the production depicts two recently released men visiting their parole officer. One of the ex-cons invites, and then insists, that the other sell drugs for him.
"The casualness of it just appalls me," says Wilcox. "If you can't go back to your old neighborhood, to your old friends, where do you go?"
Most of the men involved in Going Home don't have an answer. They hope to go home to family following their prison stint but realize it won't be a smooth transition.
"I was always a big sports nut," says Chris "Stretch" Melton, an actor in the De-Insitutionalize Plus skit, explaining that he raced motocross, wrestled and hunted a lot as a teenager. "When my dad was upset about something he would beat the crap out of me. That's how I thought I should take out my emotions because that's how I grew up. Poetry has definitely been a new experience, and I hope I can use it for the rest of my life."
Melton says the "ultimate success" for him would be "regaining the love and trust" of his young daughter after completing his sentence for burglary and robbery.
Stan "Shug" Hearns hopes after ten years behind bars on a robbery conviction that he, too, can make amends with his family. He'd never written a poem or done much writing at all before his participation with Prison Performing Arts. "Until you start to get into it, you don't realize you have any creativity in you at all," he says.
Atchison, the inmate playing the McDonald's manager, is a long-time poet who occasionally writes sonnets for other inmates to give to their girlfriends or mothers. Yet writing, he concedes, hasn't always helped him stay out of trouble.
"I've been in and out a couple times," says Atchison, who's been back at MECC for seven months following a parole violation on a burglary conviction. "You get overwhelmed when you first hit the bricks. There's a lot to re-adjust and re-adapt to."
Atchison is due out in a couple months and says he's certain this will be the last homecoming he has to prepare for. "It feels different this time," he says. "I'm not going to let myself get back here again."