Photo by Jennifer Silverberg
Bob at Cementland in 2000.
A year ago today the founder of the City Museum, Bob Cassilly, died in a freak bulldozer accident at his newest project, Cementland.
For Cassilly's widow, Giovanna, today will be a day for remembering her lost husband. She'll recall his magnetic smile, his passion for this work and his love for their two children -- Dylan, 12, and Robert, 7. And if she's lucky, she'll forget -- for just a few hours -- the ugly legal dispute that has engulfed her ever since her husband's passing.
More on Bob Cassilly's life, death and legacy.
Per eviction proceedings initiated in St. Louis Circuit Court by her husband's former business partner, Dave Jump, Giovanna has until November 1 to vacate The Baleout, a vintage clothing shop she's operated out of the City Museum's fourth floor since 2007.
Giovanna's ouster from the City Museum is only the latest skirmish in a two-front legal battle over Bob Cassilly's estate that has pitted Giovanna against Jump and the adult children from her husband's first marriage, Daisy and Max Cassilly.
Giovanna Cassilly has five weeks to close her business in City Museum or face eviction.
It's Jump's legal maneuverings, however, that Giovanna says are proving to be the most damaging as she tries to settle her husband's estate and provide for her two young children. Bob Cassilly left no will, leaving the future ownership of the City Museum in doubt. Bob and Jump each owned a 50 percent stake in the venture, but Giovanna says she hasn't seen a penny of the profits of City Museum this year, leaving her without the means to maintain her husband's work at Cementland.
"Dave Jump is trying to strangle me financially," says Giovanna from Europe, where she's been exhibiting her artwork for the past four months. "He's been using stall tactics all year causing damage to the rest of the estate -- things that he has no stake in."
A portrait of Bob Cassilly created prior to his death.
Jump and Cassilly were never the most likely of business partners. When Cassilly wrestled control of the museum from his ex-wife, Gail Cassilly, and a non-profit board of directors in 2002, he needed someone with deep pockets to fund the buyout and give him free range on all creative decisions. That person was Dave Jump, the owner of a barge company called American Milling and a shrewd businessman who made a name for himself flipping real estate in downtown St. Louis in the early 2000s.
"Bob was always really grateful to Dave for stepping in to help him through that," Giovanna says of her husband's partnership with the man she claims neither she nor her husband could quite call a friend. "Bob was the creative muscle and Dave had the money to back his projects. It was a good partnership that way."
Jump did not respond to the RFT's request for comment, though legal filings seem to back Giovanna's claims that he's attempting to push her out.
In a May 31 filing in St. Louis Circuit Court, Jump asserted that under the terms of City Museum's operating agreement he can be the only one to serve as the museum's legal manager, even though Cassilly's estate legally inherited Bob's 50 percent stake in the business. As Bob's wife at the time of his death, Giovanna is entitled to half of his assets, giving her control of the estate. Bob's children each inherit the remaining 50 percent evenly.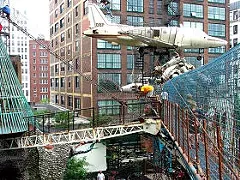 Bob built the outdoor jungle gym MonstroCity as he fought to regain creative control of the museum from a nonprofit board. The story goes that Bob was prohibited from entering the building at the time, so he took to the parking lot instead.
According to a preliminary appraisal from October 2011, Bob's share in City Museum LLC and International Building Co., LLC (the residential loft space that also houses the museum) is worth approximately $3 million.
About a month after Cassilly died, Giovanna filed a temporary restraining order against Jump, accusing him of changing locks to keep her out of various storage facilities and offices in City Museum and the IBC Building -- where she, Bob, and their two children had lived -- and preventing her from reviewing City Museum's financial documents.
In a ruling in June, Judge Joan L. Moriarty agreed that under the terms of City Museum's operating agreement, Jump had the right to deny Giovanna access to financial statements despite her role as personal representative of Cassilly's estate.
Now Giovanna says she's just trying to get Jump to make the monthly payments to Bob and his family that he did before Cassilly's death. In court filings, Jump has argued that his monetary distributions to Bob were never fixed, and he claims he has the managerial power to choose to leave money in City Museum instead of distributing it to the owners.
In a court filing on May 31, Jump's attorneys noted: "Plaintiff [Giovanna Cassilly] wants Jump to distribute more money to her regardless of the circumstances -- despite the fact that City Museum and IBC have distributed over $1,800,000 to Bob Cassilly and the estate over the past year and a half."
Giovanna counters that those payments were made prior to Bob's death and since his passing she hasn't received anything from Jump and has consequently struggled to pay bills. The estate has now failed to pay property taxes on Cementland this summer, resulting in an IRS audit.
"He loves to get a good deal," says Giovanna of Jump. "And he's doing everything he can right now to get that. He's squeezing me out here, bit-by-bit."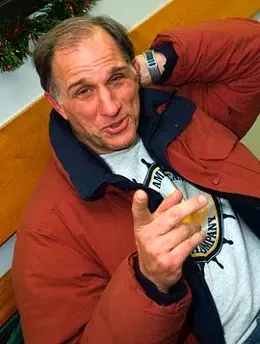 Photo by Jennifer Silverberg
The notoriously media-shy Dave Jump
Giovanna says she cannot comment on future plans for Cementland, her husband's 54-acre unfinished playground on the banks of the Mississippi just north of St. Louis. Construction on Cementland halted following Bob's death and the venture has fallen into disrepair.
"So much destruction has happened at Cementland due to Dave Jump withholding Bob's share of profits," Giovanna says, adding that with more financial resources she believes she could have better preserved the project her husband had been tinkering with for over a decade.
"It is so hard to see all of his brickwork pop out of the gravel, all of the stones he spent years carving are crumbling," says Giovanna, choking back tears. "It is so hard to see."
Giovanna adds that she has been fighting a steady stream of break-ins at the site with urban explorers and scrap-metal thieves trespassing onto the grounds.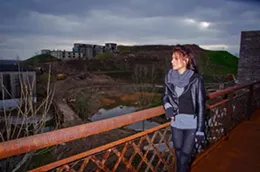 Giovanna overlooks the main site of Cementland. So involved was Bob in the project that he temporarily moved his family to the site so he could work around the clock.
Meanwhile, in probate court, Bob's older children say Giovanna is the one bamboozling them by selling valuable scrap metal that belongs to the estate.
Max, 27, and Daisy, 23, declined to be interviewed for this piece, but in a motion filed in April in probate court they allege their step-mother sold metal "so as to permanently diminish [the estate's] value, all to their detriment."
Giovanna had a strained relationship with her stepchildren long before Bob passed away. In December 2010 she was granted an order of protection against Max, after she alleged he repeatedly threatened to kill her. At the time, she told RFT that she feared substance-abuse problems were to blame for a shooting that nearly killed him in August 2011.
In circuit court, Jump has alleged that the scrap metal sitting on Cementland -- worth tens of thousands of dollars -- technically belongs to City Museum and claimed that "Giovanna intended to scrap, salvage, and sell metal and other materials" prior to a court-ordered inventory.
Giovanna admits that she did begin making "scrapping arrangements" earlier this year, but with the supervision of an attorney and only to pay for work permits.
She says she was shocked when her estate attorneys told her in April that Max and Daisy had filed a motion to prohibit her from conducting any further business on behalf of the estate.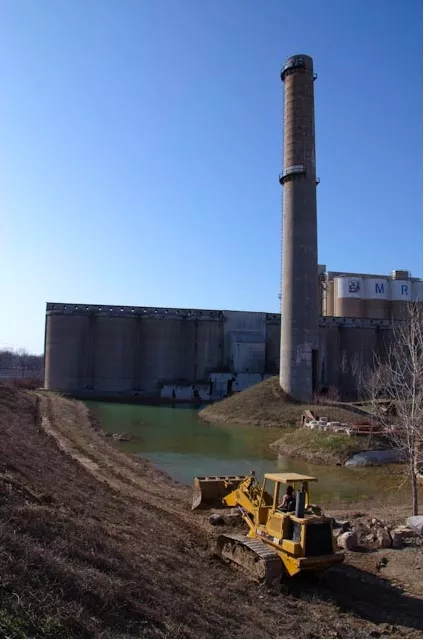 Giovanna working at Cementland. She says she learned how to operate a front-end loader to keep up with maintenance on the site. Bob died in a bulldozer that Giovanna says remains on property but is no longer in use.
According to that motion, Jump's attorneys tipped off Max and Daisy about the scrapping.
Not only does Jump have Max and Daisy on his side in the legal battle, he also has them on his payroll. Max operates City Museum's Roof Top Cantina and Daisy is a member of the floor staff. Giovanna notes that Jump has also hired all the members of the "Cassilly Crew," a disciple-like following of artists who once worked on City Museum and Cementland under Bob's direction.
Giovanna says that after initially helping her "winterize" Cementland with the permission of the probate court, the crew abruptly left January 31 to work full-time at City Museum.
"It is amazing the lengths Dave has gone to," says Giovanna, who believes her husband's former partner is attempting to isolate her. Jump's alliances, she concedes, make it difficult for her to remain a part of the museum.
Giovanna with the "Cassilly Crew" at Cementland last December.
"I've had a managerial role [at City Museum] for seven years," she says. "Regardless of the situation with Dave Jump, now with Bob gone and the institution not being solely mine, it doesn't make sense to want to dedicate any more of my time to it."
Giovanna says she can't help but wonder what her husband would think of the situation she now finds herself in with Jump.
One thing Giovanna says she knows for sure:
"Bob would've never done this to someone. If their fortunes had been reversed and Jump's wife was the widow dealing with frozen assets, Bob would've done everything he could to help," she says. "He would've never gone out of his way to hurt someone like this."