Photo by Jennifer Silverberg
Brea and James McAnally of the Luminary Center of the Arts
Maybe the
Luminary Center of the Arts
really
is
an unstoppable force.
Their rise in the local arts scene over the last few years has been
meteoric
; their
grassroots fundraising
last year promised a move to larger quarters on Cherokee Street; but last spring, somebody (still unknown to Daily
RFT
)
almost derailed the plan
by mailing packets to backers, accusing founders
Brea and James McAnally
of secret designs to convert all their artist-hipster friends to Christianity. (The resulting whispering campaign prompted our June feature, "
Oh My Landlord
").
Now it's clear that all this controversy was just a hiccup: About a week and a half ago, James McAnally tells us, he and his wife inked a lease-purchase deal to occupy 2701-7 Cherokee Street, a 13,000 square-foot trio of buildings directly across the street from where they'd originally planned to go (a.k.a., the Pig Slop studios). It should be open by spring 2013.
McAnally says the space used to be a Walgreens back in the 90s, but is now occupied by its current owner, LED Craft, a manufacturer of LED displays that was seeking to move anyway.
You can get more business/financial details from
The Beacon
, who
beat
everybody to the punch Wednesday morning:
The Luminary has raised $75,000 from 500 businesses and people (and through a Kickstarter campaign), to fund early renovations and operating expenses during that process. The incubator has another $30,000 from grants and donors in restricted funds.

The Luminary has several partners in this venture. Jason Deem, president of the Cherokee Street Business Association and Will Liebermann, association board member and Cherokee Street investor, purchased the building on the McAnally's behalf, using the couple's cash deposit. They will rent the building at cost, with plans to buy it within two years.

But on the aesthetic side, McAnally tells Daily
RFT
he's stoked about one quirk of the space that's "rarely seen in St. Louis architecture": A vaulted ceiling with exposed wooden beams. (It's currently hidden by dropped ceiling tiles). He envisions that this part of the complex will serve as gallery/music venue.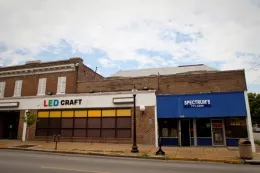 By spring 2013, this will be the Luminary's new home.
The major advantage this new space has over the
current location
just west of Tower Grove Park is that, now, artists from far and wide can come do residencies at the Luminary and not have to worry about housing (a consideration that has stymied some in the past).
By the way, as for all that religious hub-bub we mentioned earlier: While reporting our feature, we found that the McAnallys are indeed devout members of
The Journey
church, guilty only of -- if anything -- the PR mistake of refusing to publicly address that issue while sinister rumors were swirling. Yet by all accounts, they've not used The Luminary as a vehicle for missionary work, and have shown a commitment to the arts that's deep and undeniable.
That's our view, anyway.