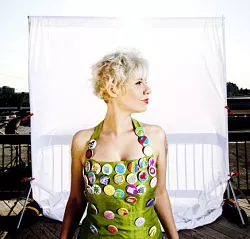 Jennifer Silverberg
Em Piro on the eve of St. Lou Fringe.
Em Piro has learned her lesson. St. Lou Fringe 2013 has been scheduled for June 20-24. That is not the weekend of Pride. It is the weekend before.
2012 firmly established that if there's going to be a conflict between Pride and Fringe, Pride, older and bigger and more deeply embedded in St. Louis culture, is going to win. And Piro, executive director of St. Lou Fringe, is entirely OK with that. "We're going to partner with Pride," she says. "I'm really looking forward to working with them."
Last month Piro attended the World Fringe Congress at the Edinburgh Fringe Festival, the oldest and largest of all fringes. She spotted some celebrities, bonded with Michael Winslow who played Larvell Jones in the Police Academy movies and happens to have family in East St. Louis and learned that the international fringe scene was wilder than she'd imagined.
Piro went to Scotland believing that all fringes operated on the North American model: 100 percent unjuried, uncensored and accessible.
"Fringe in Edinburgh isn't like that," she says. "There's much more competition. Anybody can sign up for the festival as long as they pay the entry fee, but the venues are self-managed. They select the shows they want, so the artists have to hustle to get space. I've never seen people hustle so much."
Edinburgh offers a Bring Your Own Venue option where artists can find -- or build -- their own venues. Piro was most impressed by a Dutch performance called Nothing is Really Difficult.
"They brought their own giant wooden box!" she exclaims. "It was about twenty feet high and it sat on the sidewalk. To promote the show, a guy climbs on top of the box with a jigsaw and plywood and he makes signs that say 'Nothing is really difficult,' and then throws them down to people. The performance is in the box. It was light, sound, acrobatics, traditional clowning. It blew my mind."
Piro hopes to bring some of the spirit of Edinburgh to St. Louis -- maybe even a big wooden box and a jigsaw -- but mainly the idea of DIY. For the first St. Lou Fringe, this meant that the fringe team built everything from scratch. For next year, Piro wants to teach the artists how to market their own shows and help audiences figure out which of the 30 shows they want to see.
She also plans to take a page from the playbook of a few European festivals and try to attract some celebrity sponsors. The organizers of fringe festival in Amsterdam went so far as to arrange for the singer Amanda Palmer to get arrested while promoting the festival; they later used their connections to bail her out.
Piro doesn't think she'll go there. "I said, ''That's not fringe, that's the freakin' mob!'" Being at the World Fringe Congress raised other questions about the philosophy behind fringe.
"One of the questions was, are fringes only for the performing arts?" Piro explains. "There's the Chelsea Fringe in London. They have a big gardening community, so they've turned it into a renegade flower festival, like guerrilla gardening."
Piro's pretty sure that would never fly in St. Louis, but she had to defend herself against accusations that St. Lou Fringe was not, in fact, an authentic fringe festival.
"People were surprised that there was no festival we fringed onto," she says. "But there's really no other performing arts festival here. People said mine was not an authentic fringe because I wasn't rebelling against anything. But I think our fringe exists on the fringe of the mainstream art in St. Louis. There are a lot of good arts here, but not a lot push boundaries.
"It's not something that's embraced by the traditional arts community. There's no boundary pushing. People are worried that it won't sell or it's too weird."
That's not a worry of St. Lou Fringe. Its whole identity is based on being weird. But it's not the weird kid sitting alone at the lunch table; Piro has formed alliances with fringe festivals in Rome and in Orlando and other southeastern American cities to set up and established fringe circuit.
"People from other countries said it was amazing how well we all worked together," Piro laughs. "It's an incredible community."