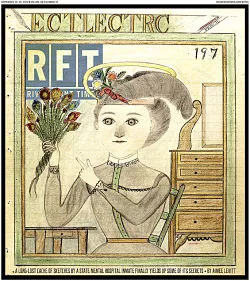 This week's Riverfront Times feature, "The Electric Pencil," tells the story of Edward Deeds, a patient at Missouri State Hospital No. 3, a mental hospital in Nevada, who created a pile of 283 colored pencil drawings that he bound into a book for his brother and sister-in-law. Today the drawings are considered an exceptional collection of outsider art. (You can view a selection of the drawings in our online slideshow.)
Like most outsider artists, Deeds had no formal training, and his work is an expression of his own rich inner life. Harris Diamant, the sculptor and art dealer who currently owns the drawings, believes that Deeds retreated in his mind to the years of his childhood, before World War I, when he spent his time exploring the woods around the family farm in Ozark and fishing in the Finley River.
Diamant and his wife Neville Bean, an artist and designer, have spent a great deal of time studying the drawings. They have uploaded them all to a website and published them in a handsome coffee table book. They have plans to make a documentary. But still Deeds puzzles them.
"Part of the reason we took the time to study it was so we could do some outreach to see what we could find out," says Bean. "We felt we owed it to the artist."
Some of the drawings had clear references to Civil War battles and to the horses that belonged to various generals. When Diamant and Bean traveled to Ozark last year to visit Deeds' childhood home, they recognized some of the landscapes and bridges from the drawings.
Deeds' niece, Tudie Williams, used to visit him at the hospital were her family and remembers her grandmother, Deeds' mother, bringing along old issues of National Geographic for him to copy. Williams' sister, Julie Phillips, is fairly certain that a few of the drawings were portraits of family members.
But many more of the references remain unaccounted for. Were they part of some private iconography of Deeds', or were they references to actual people and places that have since been forgotten?
Diamant and Bean are also curious about Deeds' life in the mental hospital. State Hospital No. 3 was built on the Kirkbride model, which encouraged patients to move around freely, instead of being confined to the wards in straitjackets, and cure themselves through physical labor. Later the hospital switched to electroconvulsive therapy, or ECT, which Deeds references in a few of the drawings.
"As we started researching [Deeds]," Bean recounts, "we realized the hospital itself was an amazing story. It's about the hospital and Kirkbride hospitals. Edward's life is a launching place for telling other stories about the beginning of our mental health system and how mental illness has had an impact on families."
She and Diamant, and also Tom Parker, a curator at Hirschl & Adler, the New York gallery that represents Deeds' drawings, are still searching for more information about the hospital and about the people and places who played a role in Deeds' inner world.
And that is where you, dear reader, come in. If you have any information about the Kirkbride sanitariums -- if you had a relative there, or if you just happen to have done a lot of research -- please let Diamant and Bean know. If you know anything about the figures in the drawings, please tell Diamant and Bean about those, too.
It is, as Parker puts it, a fascinating puzzle. Who was this man they call the Electric Pencil?