One day last November, Jacob Schmidt schlepped a bag of trash into the alley behind his parents' house in Compton Heights. He looked at the dumpsters and thought, "These things really 'uglify' the city."
So Schmidt, then a junior at
Metro high school
, asked city officials if he swirl some color onto a few of them.
Instead, the city has granted him a much, MUCH bigger canvas this summer: Their whole fleet of giant trash containers -- those 35'-8'-8' bins into which rehabbers toss debris while gutting a building.
The city has 25 such "cans," and since Monday, Schmidt has been busy spray-painting and brushing them into life -- on his own initiative, using materials he paid for by raising more than $4,000 via Kickstarter. But he's got 10,200 feet-squared to cover, and isn't sure he can finish before his senior year starts in August -- even with friends pitching in.
Photo by Nicholas Phillips
Jacob Schmidt, 18, is beautifying city trash bins for free
Last Fall, Schmidt approached his Sixth Ward alderwoman,
Kacie Starr Triplett
, with his idea to spruce up alley dumpsters. She helped him get approval to paint only a couple as a pilot project.
But there was a problem.
"It conflicted with our operation," Waelterman says, referring to the city's color-coding scheme (recycling, solid and yard waste dumpsters look different). "But we could see the kid had talent."
Waelterman then had a conversation with Refuse Commissioner Nick Young, who mentioned the big trash bins. The city was planning to sandblast, prime and repaint them anyway.
"Nick said, 'What if we let him paint those?' And I said, 'Well, why not?'"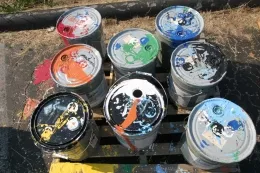 Photo by Nicholas Phillips
Paint buckets used by Schmidt and crew
On June 8, Schmidt finally reached his financial goal on Kickstarter, then surpassed it to gather $4,306 from 80 backers. He was soon stocking up on supplies at Sherwin Williams (for the paint), Home Depot (for the brushes) and Art Primo (for the spray cans).
He started in earnest on Monday (it was just too hot the previous week). About 18 friends have signed on to paint their own designs, but since then, it's been an organic coming-and-going of artists and friends.
Even Todd Waelterman's 15-year-old son has painted the side of one can -- though the Streets director swears that's not the reason he approved the project. He thinks it'll have a double utility.
"We think this will detract from the tagging, when you already have art on it," Waelterman says. "And it's a lot better to look at than a big orange can."
Schmidt himself is putting in 12 hour days to get as far as possible. Two cans have already been finished and moved into city circulation. "It's definitely a bigger project than I imagined," he says, "but it's definitely more fun than I imagined."
Photo by Nicholas Phillips
Jacob Schmidt