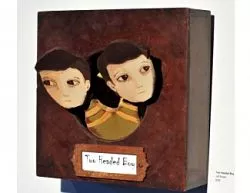 RAW
A piece by artist Jeff Brawn
First there was St. Lou Fringe. Now there's RAW: natural born artists, another showcase of up-and-coming artists that's part of a larger international movement.
Founded in LA three years ago, RAW's mission is to produce a monthly show in each of its 50-plus cities featuring independent artists: musicians and painters, but also fashion designers and makeup artists.
"We have artists from literally every genre," says Sarah Faragalla, the St. Louis showcase director. "I am so excited about this!"
The first St. Louis show will be Thursday, July 12, at 8 p.m. at the Koken Art Factory (2500 Ohio Avenue; 314-776-7600) and will feature 25 St. Louis artists, including filmmaker Jerod Walker, fashion designer Paulie Gibson, the Big Muddy Dance Company and Ellen the Felon and the Mattronome.
Faragalla, who speaks in exclamation points when the subject turns to RAW, grew up in St. Louis but left to seek her fortune in Chicago, New York and LA making music videos and commercials. Then she had a baby and decided she wanted to raise the child in a quieter environment, even if it meant giving up her career.
"I didn't have high expectations," she says. But she discovered RAW on an online job board posting, and after a long series of tests and interviews -- she says the company had been searching for four months to find the right person to run the St. Louis showcase -- she got the job and began planning the first event.
RAW
Ellen the Felon, one of the artists who will be performing at the first St. Louis RAW showcase on July 12.
She assembled July's showcase after several weeks of furious research, including consulting with other arts organizations, such as COCA, putting out calls for artists on social media and stalking musicians at the RFT Music Showcase.
RAW started as a non-profit, but segued into being self-sufficient. "We exist off ticket sales," Faragalla explains. "That's why we don't have any alcohol sponsors. We're entirely self-funded." Tickets are $10 if purchased in advance, $15 at the door. Artists don't get paid for participating, says Faragalla, but they can sell their work at the showcases and keep 100 percent of the profits.
"One of the coolest benefits," she adds, "is that once you've been in a showcase in your hometown, you're always a RAW artist. You get into our events for free, and if you want to do a show in another city, you can tell me and I'll make a call to the event director and get you into the showcase there."
The RAW season runs from February through November -- St. Louis is starting late this year -- and culminates in the RAW Awards in January. Local audiences vote for the best artists in each category; the winners travel to LA for the awards event. (They're told in advance if they've won, so they know if it's worth ponying up for airfare.) The winners receive what Faragalla calls "career-advancing awards" that include placement in galleries and well-known boutiques, such as Fred Segal.
RAW
Filmmaker Jerod Welker
The prizes are the result of the connections forged by RAW's founder, Heidi Luerra. "She's not anybody's daughter," says Faragalla. "She's hard-working. She got her name out there. She sees the goal of an artists' organization is attracting attention."
In addition to the monthly showcases, RAW has an extensive online presence; the organization shoots photos and video interviews of each of the showcase artists.
Faragalla is very excited about the possibilities for RAW in St. Louis. "I saw the show in San Diego a couple of weeks ago," she says. "It was great!"