"Lantern Festival: Art by Day, Magic by Night" made its debut last week at the Missouri Botanical Garden. It will be up most of the summer, until August 19. Go see it. Even under normal circumstances, MOBot is among the most magical places in the city, but the illuminated lanterns turn it into something truly spectacular.
"When most people think of a Chinese 'lantern,' they immediately think of a small, round, hanging paper lantern," Lynn Kerkemeyer, MOBot's special exhibits and events manager, said in a statement. "These are incredible, vivid, elaborate sets created from thousands of peces to form amazing, large-scale pieces of art."
And, as MOBot director Peter Wyse Jackson noted when he announced the festival a year ago, this is the first time there's ever been a lantern festival like this in the U.S.
The lanterns themselves were constructed in Zigong, a city in central China and the nation's lantern capitol. (Hey, you've got to be known for something.) They were shipped over here earlier this spring -- it took four shipping containers to hold them all -- and then assembled inside the garden.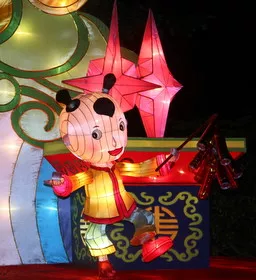 There are 26 lantern sets in all. Most of the lanterns are steel frames covered in silk. Like this:
But there are exceptions. This smoke-breathing dragon, which hovers over the central reflecting pools...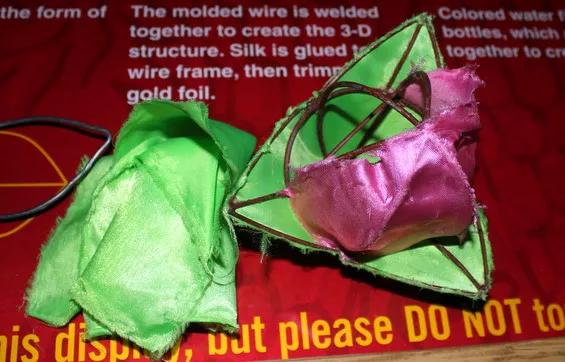 ...is made of approximately 40,000 pieces of porcelain dishware tied together like so:
This boat was constructed from 4,600 plastic water bottles...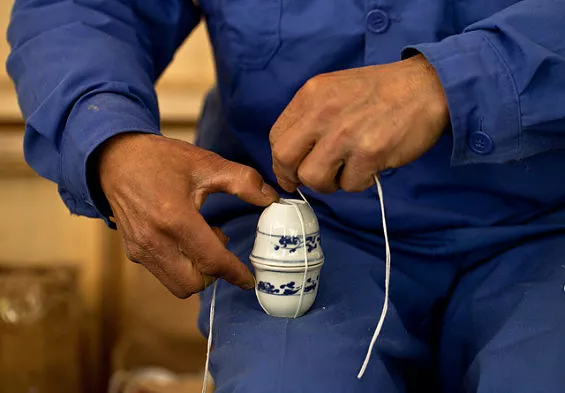 courtesy Missouri Botanical Garden
...and this Qilin, a mythological creature that looks like a friendly chimera and is a harbinger of prosperity, is actually thousands of tiny medicine bottles filled with colored water.
For the past 25 years, MOBot's botanists have been collaborating with botanists in China (and also other places in the U.S. and Europe) to catalog China's 31,500 plant species in a 22-volume encyclopedia called Flora of China. Perhaps in honor of this relationship, there are St. Louis references in some of the lantern displays. (At least we like to think so.)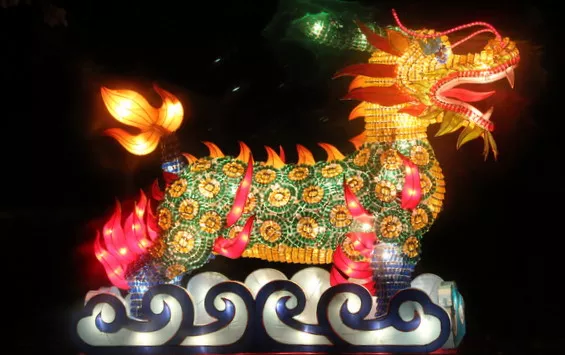 See? These pandas are under the bamboo tree! Like the song from the movie Meet Me in St. Louis. Geddit?
OK, maybe not. These warriors, though, were definitely modeled after the soldiers in a 2000-year-old terracotta army buried near the Chinese city of Xi'an.
In addition to the lanterns, MOBot also imported some artisans from China to show how they make authentic Chinese art, and then sell it.
There's also less-authentic Chinese stuff for sale (kind of like what you can buy on Olive Boulevard in University City, but pricier) and food.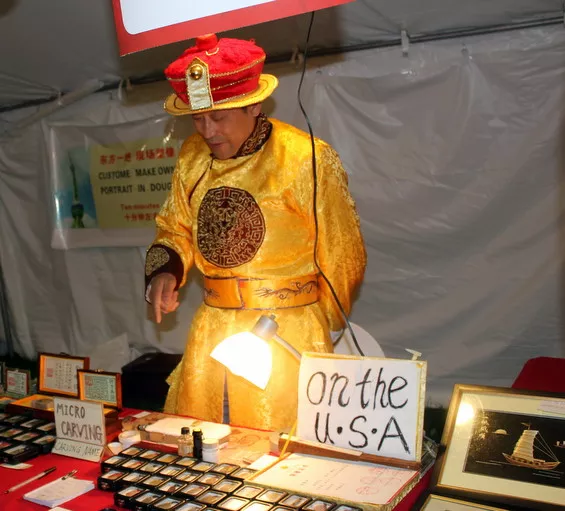 This is a full-service operation!
The lanterns get lit at 8 p.m. Thursday through Sunday evenings until July 29; from August 1-19, they'll be lit every night. The gardens will stay open until 10. There will also be performances and games. Admission costs -- and we had to save this most unpleasant fact for last -- is $22. Take the money you would have spent on a nice dinner, eat a peanut butter sandwich, and then and go see the lanterns. It'll totally be worth it.