For months, rumors have swirled in St. Louis' arts & music scene that the
Luminary Center for the Arts
, a secular 501(c)(3) nonprofit, harbors secret plans to convert artists to Christianity. (See our
current feature
). Part of this suspicion has arisen from the video below, which was recorded in November 2010 at
The Journey,
the Christian church right next door to the Luminary's current space
on S. Kingshighway
:
It was posted on their Facebook wall back in April. Luminary's co-founder
James McAnally
(the guy on the far left) -- who denies his group has any designs to proselytize -- admits that he had it instantly deleted from the site.
He says he'd been hearing from members of his
Board of Directors and Advisory Board
that an anonymous source had sent copies of the video to some of the Luminary's bigger benefactors, suggesting they rethink their funding. (As for the tipster's identity, he says, "We have our theories," but declines to name names).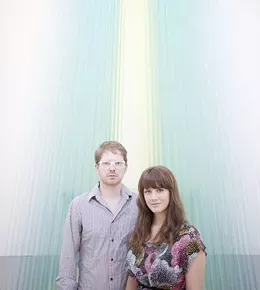 Photo by Jennifer Silverberg
Brea and James McAnally, founders of the Luminary
McAnally then called the Journey and asked them to take it down: "We were like, 'If this isn't important, we'd prefer that this not be up because someone is using it to criticize us and to affect our capital campaign.'" The Journey obliged his request.
McAnally admits that he hasn't done any favors by avoiding the issue. In fact, he says that the confusion over the Luminary's religious affiliation -- or lack thereof -- has proved costly: Certain backers have shied away or discontinued their funding altogether (he declines to say who and by how much).
But the question remains: If The Luminary is truly not a Christian organization, how does that square with what we hear him say in the video?
Which, by the way, really isn't that different from what he'd already
publicly said
the year before in the Texas-based
Baptist Standard
:
....James McAnally said the church views the Luminary's role as service.

"It's a way to serve the people around us," he said. Some churches serve by starting soup kitchens. "We felt strongly the need to serve artists by finding out what they need and try to provide in meaningful ways."

The Luminary provides space for artists to work and helps provide resources for aspiring artists to network and become professionals.

An artist's work is incredibly personal, he said. "By showing them we care about them and what they do, we are serving where it is most personal; it's a tangible way to speak of the gospel."

To clarify these remarks and the video, McAnally wrote us an e-mail that we will quote in its entirety:
We were speaking to a Christian audience as someone who is a Christian - it makes it a complicated thing. Myself as an individual and The Luminary as an organization are two separate things. The organization itself is not religious, was not formed to be that and is not accomplishing a religious goal. We exist solely to support the creative community and to make it possible for artists to live and work here, which hopefully we have done and will continue to do indefinitely.

With the quotes presented as they are, I understand the reflex to wonder about our motives. It is murky; it is difficult. It has always been uncomfortable and little confusing on how we are supposed to address the church about why they allow us to use the space, year after year, and why they support us in general. Being asked questions that we would have never asked ourselves and trying to be appropriate to the audience and respect them for what they have given, now unfortunately represents us incorrectly.

We are the complicated founders of this complicated organization and this is perhaps the baggage that we are left with. Our other staff, our volunteers and advisors--very few have ever interacted with the church and we don't want to represent their work and effort in building this thing as if it is something other than the art organization that it is. We have mis-spoken, but I don't think we've mis-stepped in the way we program and run the space.

For more, please read our current feature,
"Oh My Landlord!"