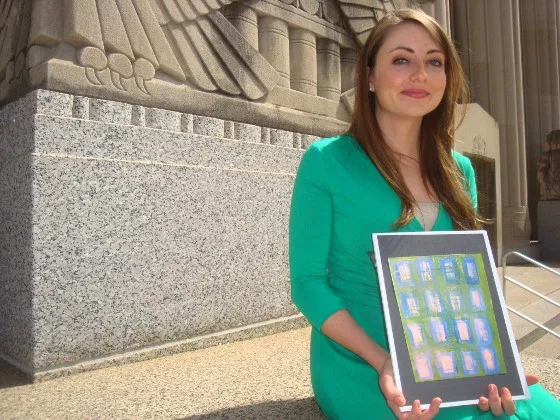 Vara Lyons, in front of the Mel Carnahan Courthouse in downtown St. Louis, holding a mini-print of a canvas piece titled "It's Just Paper," by Renee Farmer, a longtime victim's advocate who later became a victim herself.
"Does that make sense?" asks Vara Lyons. "I'm trying to not sound like a cerebral art historian."
She can't help herself. Lyons is a legal assistant for the Community Affairs Bureau of City of St. Louis Circuit Attorney's Office. She's also a self-described art history nerd whose life has been shaded in by art theory and culture. She majored in art history at Washington University, studied in Florence and interned at the Museum of Fine Arts in Boston. Please forgive her if she uses phrases like "sultan's decree," "import/export of antiquities prohibition" and "the identity of the female figure in Pallas and the Centaur," expecting you to understand.
So when Lyons landed the job at the Circuit Attorney's Office -- a place not exactly known for its arty types -- she seized the opportunity to add a little color to the canvas of criminal justice. For the past several months she's been organizing an exhibit featuring works done by local artists and crime victims. Her goal: to get everyday citizens to sympathize with what crime victims have endured -- and in many cases, continue to endure -- through art.
The exhibit kicks off this Sunday at the Vaughn Cultural Center at the Urban League of Metropolitan St. Louis to coincide with National Crime Victims' Rights Week, which is sponsored by the U.S. Department of Justice and includes events from coast to coast. Each piece in the exhibit represents a different aspect of victimhood -- the trauma, the lingering fears, the healing process, for example.
"Too often we read the news and see only the mug shots," says Lyons, who is 24 and will enter The George Washington University Law School this fall. "But for obvious legal and personal reasons we don't see the victims. There's so much focus on the sensationalism of the crime, sadly, and I hope these images give voice to victimization in a way the community understands. Is that too theoretical?"
The exhibit includes photographs, drawings and paintings, along with one or two mixed-media pieces. Photographer Lawrence Bryant, for example, visited a St. Louis playground and captured an image of young, seemingly blissful children twirling a long strand of police tape as if it were a jump rope. (See below left.) Bryant sapped the color from the photo, leaving only the bright yellow of the police tape, crystalizing the fact a crime had occurred -- and that the children, whether conscious of it or not, were impacted by it.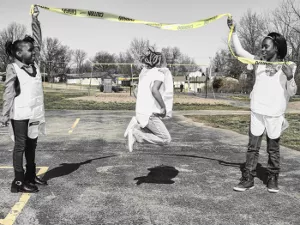 Lawrence Bryant's "Playing Safe."
To take another example, Renee Farmer, a longtime victims' advocate who later became a victim herself, of stalking, submitted a large painting featuring an array of blue and pink rectangles representing the legal documents in the case of her pursuer, who was eventually convicted. Farmer used gradating brushstrokes to symbolize the fading away of bad memories. The backdrop is green, conveying tranquility behind her wall of protection.
Lyons, too, finds motivation in color. She enrolled in Washington University after noticing during a campus visit that the tulips were in bloom. During a recent interview, her dress is pastel green, her eyes blue-gray, her iPhone case hot pink. Her nail polish is salmon-colored, and she apologizes politely that it's slightly chipped. She grew up in Jackson, Mississippi, and can play the piano and ride a horse, but she'll decline the southern belle label, noting she wore branded cowboy boots in high school and drove her father's Ford F-150. She wears pearls but can also ease her way into a conversation about hunting.
That Lyons has found success blending art theory with justice is no coincidence. Ever since her undergrad days when she presented a mock case arguing that the Elgin Marbles should remain at the British Museum rather than be returned to their original home in Greece -- a still-controversial issue -- Lyons has sought to view art through a legal prism. (She also has an "art + law" Google alert. Really.)
But art law is actually a burgeoning field. As recently as five years ago, art crime was the third-largest growing international criminal industry. The Federal Bureau of Investigations now boasts a fourteen-member Art Crime Team. In 2006 the American art scholar and criminologist Noah Charney launched the Association for Research Into Crimes Against Art, an Italy-based think-tank offering counsel on art protection and recovery cases. Most museums employ legal advisors. Ownership battles -- whether between country or kin -- continue to mount.
The St. Louis Crime Victim Advocacy Center and the Circuit Attorney's office have recognized National Crime Victims' Rights Week on the local level since the 1990s, but this is the first year St. Louis has incorporated a major art exhibit into the lineup of events. Lyons conceived the idea several months ago when she learned of a similar exhibit in Minnesota after receiving a Google alert. (Yes, that one.)
Because Circuit Attorney Jennifer Joyce has recently been pushing Neighborhood Ownership Model initiatives, which urge residents to play active roles in crime deterrence, Lyons was convinced that some citizens could contribute by creating art depicting crime's human consequences. In January she put out a call for submissions. Twenty pieces came in; about half were done by artists, half by victims. A three-member jury consisting of Joyce, Bruno David of the Bruno David Gallery, and Torri Brown, a local artist and domestic violence survivor, selected sixteen works to showcase. They also awarded first-, second- and third-place prizes, with the top honor going to Bryant for his police-tape photograph.
Lyons hopes the exhibit will offer insights that can't be gleaned from daily crime reports.
"We're visual creatures," she says. "We have short attention spans. Sometimes images are more impactful than words."
She adds: "The victimization process doesn't end when a criminal is convicted, and I hope this art helps people understand that."
"St. Louis's National Crime Victims' Rights Week Art Exhibit" runs April 22 to 27 at the Vaughn Cultural Center at the Urban League of Metropolitan St. Louis. Hours are from 10 a.m. to 5 p.m. An opening reception with remarks and awards will take place on April 22 from 1 to 4 p.m. For more information, click here.