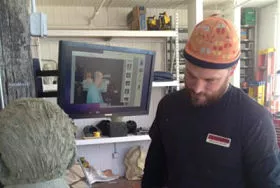 Schubert at work on his bust of Rush Limbaugh.
Update, March 6: More information at the end of the post, including Senator Claire McCaskill's protest and an answer to commenter Mike N's question about whether this wad of bronze is funded by taxpayer money.
-------
The eagle-eyed bloggers at Fired Up! Missouri posted the news earlier this afternoon that E. Spencer Schubert, a Kansas City sculptor, is working on a bust of Rush Limbaugh that will eventually be displayed in the Hall of Famous Missourians in the state capitol in Jefferson City.
Schubert actually posted the news on his website last month, but it's much, much funnier now. (You see? There is some advantages to failing to pay attention to the new inductees to the Hall of Famous Missourians.)
Interestingly, Schubert chose to feature an older photo of Limbaugh on his website, one in which the radio host still had cheekbones, before he became the bloated, wailing infant we all know today. (We have a call into the sculptor for more details.)
Still, far be it from Daily RFT to criticize House Speaker Steven Tilley (R-Perryville) for his choice. Rush Limbaugh is, indeed, famous -- it is fair to say that, at the moment, more Americans have heard of him than this year's other inductees, Dred Scott and Buck O'Neil (both also sculpted by Schubert). As for the Missourian part, the historical research geniuses at Tweets of Old have proof that Rush's roots here, not to mention his obnoxiousness, extend far deeper than his Cape Girardeau boyhood.
The crew at Tweets of Old uncovered this gem from the July 7, 1894, edition of The Newsboy of Benton, Missouri:
Newt Jarrit shot John Limbaugh at a camp on Ed. Marshall's place near Sikeston on Thursday of last week. The ball entered on the left side of the abdomen and passed around to the right where it was extracted by Dr. Wyatt.

To a Newsboy reporter Limbaugh said: "Jarrit and I were the best of friends. We roomed together. Thursday night we had some whiskey at the camp and the boys were trying to get up a scrap. I tried to keep it down. This enraged Jarrit and he began to abuse me. I called him a name and he told me not to do so again. I told him I would say what I pleased. At this point he drew a revolver and said he would kill me and I ran in under him."
It's likely this John Limbaugh was Rush's great-great grandfather -- and a man who was so obnoxious that even his best friend couldn't help wanting to shoot him. It's almost enough to make us feel a little sorry for him and consider leaving a bottle of aspirin as an offering -- well, if we were ever to visit the Hall of Famous Missourians in the first place.
Update: The Kansas City Star caught up with House Speaker Tilley, the man responsible for enshrining El Rushbo, for his take on the controversy.
Predictably, Tilley said he would stand his ground and not back down.
"It's not the 'Hall of Universally Loved Missourians,' " Tilley informed the Star. "It's the Hall of Famous Missourians." He noted that other inductees, including Mark Twain and Harry Truman, had had their moments of unpopularity as well. Not that either of them ever called anyone a "slut" or a "prostitute" in a public forum, but why quibble, especially since the Rush-shaped hunk of bronze has presumably been bought and paid for?
Fortunately, taxpayers will be happy to know, the money for the statue does not come from public funds. Tilley raised money for it through the Speakers Annual Golf Classic, a nonprofit event held in St. Joseph every year. (However, it looks like the golf outing is supposed to raise money for student scholarships, not bronze busts of controversial radio hosts?)
Meanwhile, Senator Claire McCaskill went on Hardball last night to discuss the controversy with Chris Matthews. McCaskill denounced Rush for being an asshole and for failing to make an adequate apology to Sandra Fluke. (Just in case you've been living under a rock, she's the Georgetown law student whom he called a "slut" and a "prostitute"; Rush said he probably shouldn't have used those words without bothering to say he was sorry for the sentiments behind them. Fluke rejected the "apology." For the record, Rush did not apologize for originally saying her first name was "Susan" or for repeatedly mispronouncing her last name, which should rhyme with "book.")
McCaskill also denounced Republicans everywhere for their failure to stand up to Rush -- by the way, does no one remember the time she told David Letterman to stop making fun of the Palin girls? -- and Tilley in particular for the Hall of Famous Missourians fiasco. If you're interested, McCaskill has a poll on her website asking whether Rush deserves his place of honor. Have at it.
Meanwhile, McCaskill asked plaintively, can we start talking about jobs again? Even though laws and budgets and stuff make for far more boring news coverage? At least the discussion probably won't give Rush Limbaugh any more undeserved attention.