The NonProphet Theatre Company announced yesterday that there will be no encore to their fifth season. The group has officially disbanded effective immediately, putting an end to their long run as both a comedy troupe and as a theatrical company.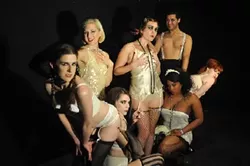 The cast of the NonProphet's production of Cabaret.
The NPTCO began way back in 1995 as a sketch comedy vehicle for a rotating cast of performers, as detailed in Ben Westhoff's 2003 feature, "
No More Funny Business
." Five years ago the group and its fearless leader, Robert A. Mitchell, decided to expand into fully-staged plays, a move that introduced them to a larger audience. And despite their origins in comedy, NPTCO were as likely to present a serious drama (Neil LaBute's
Reasons to Be Pretty
was included in their most recent season, for example) as they were to mount something lighter.
For my night job as this paper's junior theatre critic, I saw quite a few of those plays. Some of 'em I
liked more
than
others
, but I always admired their willingness to take a risk. The NonProphets were never as well-funded as they deserved to be, but that never slowed them down. (In retrospect, the company's
brief and unsuccessful
business relationship with the Ivory Theatre undoubtedly cost them valuable time and money they could ill afford to lose). When they were at their best, their no-frills, high-energy approach to each show made you feel like you were witness to an event -- a set may have been more implied than it was tangible, but who goes to see a show to look at the scenery? The real action comes from the actors, and a NonProphet show was a pretty good place to see some fine acting. Charlie Barron in
Dog Sees God
, Reginald Pierre in
Debbie Does Dallas: The Musical
and Leah Schumacher as
Cabaret
's Sally Bowles-- you may know her better as Lola Van Ella -- spring immediately to mind, but there were plenty of other actors and actresses who did great work with the company.
The NonProphets are not the first company to close up shop, just the first one to do so this year, and overall the St. Louis theatre community is very healthy. Still, I always get a nervous, slightly nauseous feeling when this happens. There are a great number of talented people in this town, both in front of the curtain and behind it, and the work they do is a vital part of our cultural bottom line; The loss of a theatre company diminishes all of us. In honor of the NonProphets' legacy, a suitable tribute would be to go see some of those people at work in the
near future
.