For 30 years, Sarah Jean Linquist was a quiet but omnipresent artistic force in St. Louis. Her murals decorated buildings, her painted backdrops enlivened the stage of the Muny and her "landscapes" brought caves and forests and waterfalls into private homes. She was also responsible for the inflated version of Edvard Munch's "The Scream," a favorite in museum gift shops across the country.
Five years ago, Linquist was diagnosed with ovarian cancer and started undergoing treatment. The chemotherapy made her lose feeling in her hands and feet. She could no longer hold a paintbrush. As therapy, both physical and emotional, she began cutting up bits of paper. Eventually, the pieces grew into a diorama of a paper jungle, five feet long, three feet wide and three feet tall. Later she built other dioramas of wood, metal and popcorn. It occurred to her that the dioramas were like stage sets, and she built characters to wander around inside them. She started making plans for a book, a Christmas story called Onward is Best, illustrated with photos of characters in the dioramas.
Linquist died last year. In order to keep her spirit alive a little longer, her husband and longtime collaborator, Robert Fishbone, her three sisters, her niece and several of her friends decided to finish the book. Onward is Best: A Christmas Journey has just been published in hardcover and is on sale online and at Left Bank Books; there will be an official launch celebration next Sunday, November 20, from 4 to 7 p.m. at The Eleven (360 North Boyle Street). A portion of the proceeds from the book will benefit Cancer Support Community of Greater St. Louis.
"It's wonderful and sad," says Barry Leibman, former owner of Left Bank Books and one of the friends who worked on the book. "Each time we finished a part, I felt proud of the work we'd done, but at the same time, for those of us who'd been close to Sarah, it was a loss."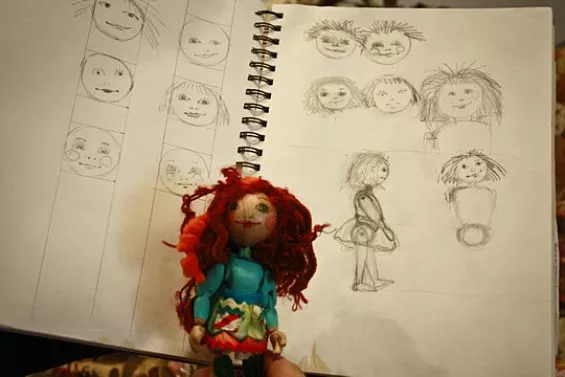 Savannah Dodd
Dolly and a few of Linquist's preliminary sketches.
Onward is Best tells the story of Dolly, a funky-looking wooden doll with wild red hair who is petrified at the thought of leaving Santa and the safe confines of the North Pole to go be the Christmas present of some strange kid. Instead of meekly following the other toys into the Wrapping Room, she runs away and, through a series of misadventures, ends up in Paper Land, the first of Linquist's dioramas, with no clue how to get home.
"She learns to trust herself and her instincts," Leibman explains, "and to trust what Santa said, that she has a good wooden brain." She makes a couple of friends, the paper Dragonfly and the metal Prinx, and together they wander through Popcorn Land, Metal Land, Teddy Bear Land, Wood Land and, most frighteningly, Desolation Land, as they try to find their way back to the North Pole. (Desolation Land, which sucks the energy out of Dolly and her friends and takes away their ability to feel their hands and feet, mirrors Linquist's own experiences with chemotherapy.)
Savannah Dodd
Wood Land.
"Early in the book, Dolly sees a sign that says 'Ask For Help,'" Leibman continues. "That's Sarah's journey. She asked herself, 'What do I do? I have cancer.'" Like Dolly, she learned to ask her friends for help.
Linquist finished the dioramas before she died and was nearly done with the story. Her sisters, Suzanne and Ann Linquist and Kate Adams, finished and edited it. Leibman found a photographer, Ian Wasserman, to take the photos, and Linquist's niece, Carrie Ehrfurth, did the layouts. Fishbone appears as Santa.
"For all of us, it was a wonderful way to keep engaged with each other and with Sarah's work," Leibman says.
The dioramas will be on display at the book launch, but last week RFT photo intern Savannah Dodd paid a visit to Linquist's studio for a sneak peek. You can see more of her photos here.
Savannah Dodd
Jack, Dolly's annoying pal from the North Pole.