Editor's Note: RFT's critic-at-large, Anton LaFontaine, weighs in on the unveiling today of the Chuck Berry statute in the Delmar Loop.


Photo: Kelly Hogan
Peek-a-boo, we see you!
The point of commemorative statuary is not to further the fine art of sculpture -- and the bronze homage to St. Louis' native-son genius who penned "My Ding-A-Ling," indeed, does not do so. The point, rather is to immortalize a fellow traveler in an enduring material that would survive all but the unlikely prospect of a rogue thermonuclear device.
Indeed, Charles "Where's My Breakfast" Berry is a man worthy of such an honor. And a bronze statue of him is to be dedicated in University City this very morn.
We know. Political naysayers have quibbled about this or that felony, the video camera where it ought not have been, and other, shall we say, "proclivities." We reply that this is the originator of Rock and Fucking Roll! These are not things that detract from the accomplishments of Mr. Berry. There are a plethora of statues of saints in the world. We need statues of sinners. And where better to start than that Sodom and Gomorrah of the St. Louis area, the Delmar Loop?
Alas, the men who craft such memorials do not stride amongst us like the Michelangelos, Donatellos, Rodins and Giacomettis of yore. No, they are merely workmanlike craftspeople whose three-dimensional output consistently exhibits shortcomings, which, while elevating the personage being portrayed, make the object itself fall well short in terms of capital-A Art. Any greatness emanates from he that is the subject matter, not from the execution thereof. Indeed, the Harry Weber-fashioned Delmar bronze has one duck-walking foot planted firmly in this pseudo-artistic camp. Many have already noted the the cast-metal countenance does not resemble the intended honoree so much as a deranged Andy of Mayberry. "Hah-rumpf," scoffs the connoisseur.
We would have theorized that when one has commissioned such an artistic endeavor, has made public proclamations to its grand importance, that one is blinded to the work's actual visual deficiencies. Not so with the intellectual Leviathans who benevolently lord over our area's boulevard of vice. No, their solution is as genius as the licks that emanate from Mr. Berry's guitar. "Encircle that damn thing with saplings!" was their command. And indeed it has been so surrounded, making the work unviewable at appropriate distance from certain strategic vantage points.
In the future, when these recently planted trees grow to full maturity, they will do double duty, providing much-needed shade to the dreadlocked wastrels sure to gather in a circle at the Great Chuck's alloyed feet, willing to accept small pecuniary donations for the inspired smack or two on an African drum before meandering onward to Portland or Boulder. Brilliant!
So brilliant in fact, we posed this query to ourselves: "How would other three-dimensional artistic expressions fare being exhibited thusly?" Several examples follow. You be the judge.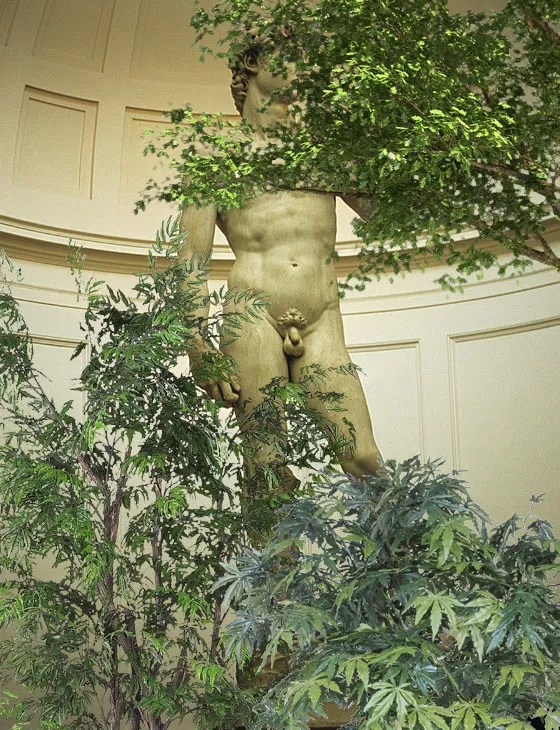 Michelangelo's immortal David, given the Chuck Berry treatment.
Rodin's The Thinker -- surely it would be improved by some well-placed saplings.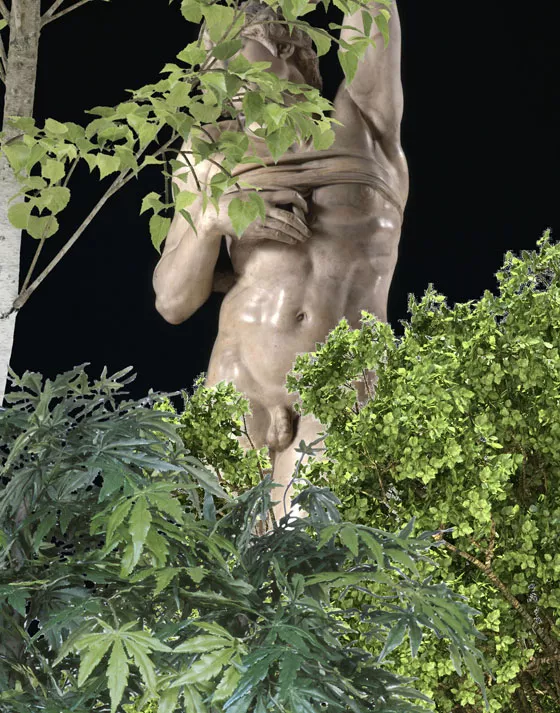 Dying Slave: Doesn't every tragic victim deserve a little shade while expiring?
As this landscape treatment shows, even the Aphrodite of Melos might be improved with a little greenery that focuses the viewer's eye squarely on her best assets.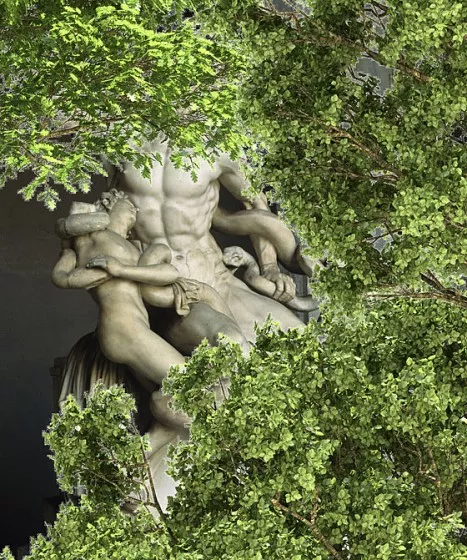 Laocoon -- surely the sculptor did not wish for you to stare at his face.