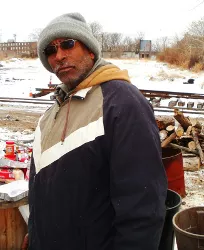 An unnamed Hopeville resident.
If you happen to be in the Loop during the next few weeks, you might stroll into Subterranean Books, which has put on an exhibit by photographer Robert Boettcher. The images, all captured with a basic point-and-shoot digital camera, depict the city's underbelly: gritty scenes of abandoned buildings, graffiti-tagged walls and dark, silent streets.
Those of you who follow the local photography scene might be curious to know: Who is Robert Boettcher? He's not a household name, and, indeed, this is his first-ever exhibit. He didn't even make an appearance during the exhibit's opening reception.
Well, the name might be more familiar to those who follow the crime blotter. The 50-year-old Boettcher was a former resident of Hopeville, the homeless encampment located on the banks of the Mississippi River, and last month he was arrested and charged with fatally stabbing one of his neighbors.
Not long ago, Boettcher, who grew up in St. Louis and lost his home in 2008, was given a digital camera by Inside Dharma, a humanitarian Buddhist organization that provides services to inmates and the homeless. Since then he has gone on to capture and reproduce on his website dozens of images that capture our city's belly of the beast. (The banner of his website aptly displays a chain-link fence with barbed wire.) Boettcher used computers at the library and in hotels to upload his photos and do a bit of blogging.
As Riverfront Times Calendar Editor Paul Friswold reports in his preview of the exhibit, "[Boettcher's] photos of Hopeville, the tent city north of downtown St. Louis, show the sense of community that we're not normally privy to, and his images of the city's abandoned corners reveal the loneliness that comes with being outside society."
Friswold's appreciation is echoed by others. "The personal life of the artist doesn't really have any bearing on the quality of the art," Kelly von Plonski, owner of Subterranean, tells Daily RFT. Von Plonski heard about Boettcher's work through Carol Corey, the Inside Dharma worker who gifted Boettcher the camera. "The show had been on the calendar for about a year and I didn't even have to think twice about continuing with it," von Plonski says, recalling her reaction to the Boettcher's work.
Despite the photographer's indisputable talent, he is better known for his pending criminal case and the troubled tent city where he once resided. On May 3, the St. Louis Metropolitan Police Department arrested Boettcher and charged him with first-degree murder, for the fatal stabbing of a fellow Hopeville resident, 36-year-old Adrian Henderson. He's currently detained in the St. Louis City Justice Center. As Post-Dispatch columnist Bill McClellan noted last month, Boettcher alleges that the stabbing was an act of self-defense.
Through Corey, the Inside Dharma rep, Boettcher declined to speak with Daily RFT about his case.
City officials have pledged to shut down Hopeville and other homeless encampments by the end of the summer.
Boettcher's work also will be on display at Art St. Louis, in an exhibit featuring several other local photographers, which opened on Saturday.
Robert Boettcher: Street Level Photography remains up at Subterranean Books through Sunday, July 17. Prints are available for purchase. Proceeds from all sales will be donated to an as-yet-undetermined organization that aids the homeless.