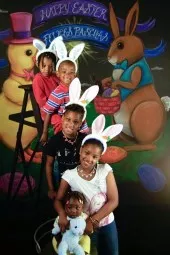 Courtesy Cherokee Photobooth
Cute Easter kids from last year.
Looking for something adorable to put in Grandma's Easter basket? Hop on over to
Cherokee Photobooth
for their second free Easter photo session and get a portrait taken in front of a chalk mural by local artist Ryan Frank.
You may recall reading
about a similar event
around Halloween -- Cherokee Photobooth did indeed snap photos of little (and not so little) ghouls and goblins all day one day back in October, and as with the Easter sessions, everyone went home with a 4x6 print. It was a great scene on a gorgeous day in the neighborhood, with entertainment spilling out over the block.
Next weekend's Easter shots, on Saturday April 23 at 2637 Cherokee Street between 10 a.m. and 7 p.m., promise to be similarly festive. Cherokee Photobooth proprietor Juan Montana tells us to expect a great party while you wait -- face painters, a belly dancer, a troubador serenading people and an all-around party.
What's different about this go-round, though, is that the Photobooth folks are seeking your help.
"For the Halloween photos, we had forty businesses supporting it. I went door to door," says Montana. "I didn't want to do the same this time, in part because Halloween just happened. I didn't want to push it with my neighbors."
So the project is making use of
Kickstarter
, the online funding platform that connects artists with people who can contribute at whatever level they're comfortable with. You pledge money, but only pay it if the artists raise their entire goal.
"The minimum we need is $1,200 and we're about halfway there," says Montana. "Different artists on the street have used it. They do it for the Peoples' Joy Parade. We thought it would be appropriate if the artistic community on Cherokee Street and around St. Louis could support this."
Ready to open up your virtual wallet? You can contribute to the free Easter photo project by clicking
here
to visit their Kickstarter page.
It would be great if you could give. But if you can't, come on down anyway and put on some goofy ears for a photo.
Says Montana: "Everyone is welcome and invited, if they can contribute or not."