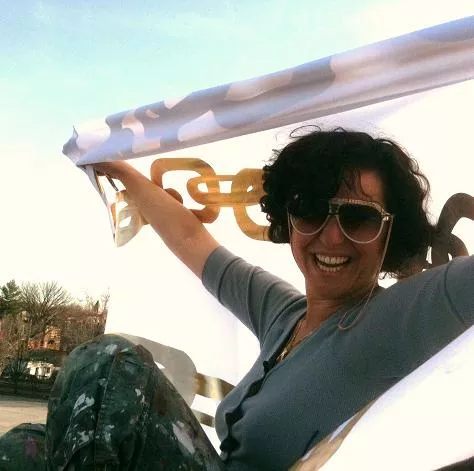 Meksin takes a break yesterday atop the roof.
Rain. Sleet. Broken sewing machines. They are but a few of the obstacles New York artist
Leeza Meksin
has encountered since arriving to St. Louis last week for her biggest installation to date: wrapping an entire home in her medium of choice, spandex.
Despite the setbacks, Meksin and her team of assistants -- including two siblings and Washington University art instructor
Lauren Adams
-- plan to complete their
"House Coat"
project in time for Friday's opening.
Photos: Chad Garrison
Update: See photos of the final installation here.

Spandex patterned in gold chains covers the home at the corner of Iowa and Arsenal streets.
As of yesterday afternoon, half of the home that Adams rents at the corner of Arsenal and Iowa streets was draped in the 800 yards of gold-chain-patterned spandex, which Meksin designed and ordered directly from a South Korea textile mill. And, already, the exhibit is eliciting the reaction Meksin hoped it would, prompting conversations of both bondage and extravagance.
"A minister walking down the street today stopped by and said it was a perfect metaphor for his sermon this week on slavery," said Meksin yesterday while taking a break on the roof of the home.
Meksin and crew plan to begin stretching the fabric today so that it hugs tightly to the frame of the house. The opening -- open to the public -- begins Friday at 4 p.m., and the installation will stay up for a month -- maybe longer if the material holds up.
Related Content:
Artist Plans to Wrap St. Louis Building in Spandex
Below a video of the installation process, courtesy of Meksin's sister, Anya Meksin.