Framed Concepts
Detail from "Sturgis Rally"
When an inmate gets out of prison in the movies, he's left with the clothes he came in with, a hundred bucks and not much else. Real life isn't very different. Except that an inmate has debts: restitution for his crimes, often, plus child support for his family, if he has one. If he had a job inside, it paid maybe 50 cents an hour, not much to start a new life on.
Jim Woelfl was in exactly that situation when he got out three months ago. He went back home to the Chicago suburbs and tried to get some work in construction. But winter is a slow season for construction work, which gave him time to think, and he came up with a plan to make things better for his fellow ex-cons: Framed Concepts, an organization that helps prisoners sell art they create on the inside.
"A lot of the public doesn't think inmates should have the opportunity to do hobbies or crafts," he says, "but I think it's beneficial. When you're inside, you're away from drugs and alcohol. You have to sit with yourself. I'm amazed at the stuff people come up with. I thought I'd try to do something to help."
Woelfl's plan is to take prisoners' art and sell it on a consignment basis. Most of the work is priced between $20 and $30, but some pieces go for as much as $125. Twenty percent of the take goes toward restitution and child support and another five percent to a charity of the inmate's choice. "It helps people pay for things they wouldn't normally pay for."
So far, Framed Concepts works with seven convict/artists, though Woelfl is hoping to talk with different prisons to attract more. It's a dicey situation, he says, because when he was released, he had to promise not to contact anybody he met on the inside. He declines to say what crime got him imprisoned in the first place because he doesn't want to draw publicity to himself, only to the work he's trying to do. Or, as he puts it, "We want to concentrate on what we're doing rather than what we've done."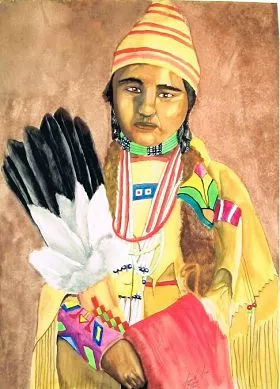 He's less reticent when it comes to talking about the prisoners' art. "The first guy gave me three pieces," he says. "He spent two years on each one. They're each six feet long by two feet high with drawings of hundreds and hundreds of people at a bike rally. They're done in colored pencil. The detail is unbelievable."

Framed Concepts
Sturgis Rally
Over the winter, Woelfl sold some of the work at biker rallies around Chicago and St. Louis, but he's hoping to convince bars and restaurants to display and sell the art. The management at Mile 277 Tap & Grill, a biker-themed bar that's set to open at the Holiday Inn Viking in Kirkwood later this month, has already expressed some interest.
Ironically, Woelfl's not much of an artist himself. "I can't draw a straight line," he says. "I made a rocking chair for my granddaughter."