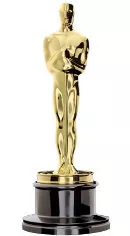 Oscar season is upon us, which means everyone's anxious to know if "The Social Network" or "The King's Speech" will be this year's big winner. But all that cinematic energy shouldn't be reserved for Hollywood! We have our own movie-making community in the Lou, and for all you screenwriters out there, now's the time to send in your submissions to the CinemaSpoke screenwriting competition. The deadline is Feb. 28, so it's time to get crackin'.
The winning script will be presented during the 20th Annual St. Louis International Film Festival in November, with the screenwriter given the opportunity to direct it. The hosts of that event won't be Anne Hathaway and James Franco, alas. But we'll always have George Clooney.
Before the grand-prize winner is chosen, up to five finalists will be selected to have their works read aloud in a public forum by professional and amateur actors later this year. (The writer can opt to play a role, too.) The finalists will also receive feedback from a panel of film-industry experts experienced in producing, screenwriting, filmmaking, development and criticism.
After their work has been critiqued, the five finalists will rewrite the scripts, based on feedback, and enter them into contention for the grand prize. For more information, click here.