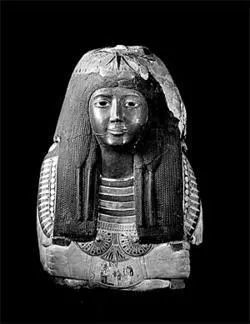 Ka-Nefer-Nefer's smile suggests she's amused by all the fuss over her -- 3,200 years after her death.
The federal government is following up on a possible case of stolen artwork that the
Riverfront Times first reported
on in back in early 2006.
The case involves the burial mask of ancient Egyptian noblewoman Ka-Nefer-Nefer that the St. Louis Art Museum acquired in 1998 from a New York antiquities dealer. The museum contends that it thoroughly researched the history of the relic before paying $499,000 for the piece and found it to have been been owned by European art collector since the 1960s. Egyptian officials, meanwhile, say the mask was stolen from a storage room near the Saqarra pyramid in the 1990s.
The
Post-Dispatch
reports today that officials with the U.S. Attorney's office in St. Louis met with the museum last month to demand that they turnover the mask that was first unearthed in a 1952 archeological dig. Instead, the museum has now sued the U.S. government in federal court here, claiming that the statute of limitations have expired because officials failed to act within five years of the theft or two years within its discovery. What's more, the museum argues that there is no proof that the mask was ever stolen.
Federal officials have yet to respond to the suit.