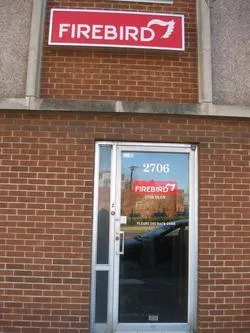 Doug Stanhope is a sick man: a sufferer of umbilical hernia, a surly boozer, recidivist smoker, champion of recreational drugs, former Libertarian candidate for President, rambling social satirist and stand-up veteran who's crawling out of his hole in the Arizona desert to play the Firebird on Saturday night.

He managed to call
Daily RFT
as planned, but did so an hour late, thanks to an unexpected visitor...
Daily RFT
:
Did you say the lead singer of [trash-metal band] Exodus is coming to your house down in Bisbee, AZ?
Doug Stanhope
: Yeah, he emailed a couple years ago and said he was a fan. We've swapped emails back and forth. So now [he and his girlfriend] are comin' down, I don't know if they're staying or not.
But he doesn't drink, so that's creepy.
This is one of the few sanctioned social events I'll attend where people don't drink. And we're cleaning up the house, for a fucking death metal guy. It's a death metal guy, and I'm fucking mopping the floor.
You recently quit smoking. How's that going?
I'm smoking as we speak, sir. I got one of those electronic cigarettes and it actually works pretty well. Now I can smoke like in airports. I end up smoking twice as much.
Some of your best work, in our opinion, has been your ranting on BBC's Newswipe.
The BBC knows how to do TV. They run six episodes and stop, quit while they're ahead. They're not like American sitcoms going into their 19th season, and they have to add a fucking alien or some random child they had out of wedlock that appears on the scene.
Image via
Doug Stanhope - adored in Britain, ignored in America.
How'd you get hooked up with that show?
I honestly don't know. Brian, my manager -- he's the Scottish guy that called you -- we have a very special relationship. I'm the only one he manages. He's a funny prick. He's the guy that brought me over to Europe for the first time.
I showed up there in 2002 with full-page articles. I had more press just stepping off the plane that he handed to me -- before I'd ever done a show there -- than in my entire 13 years of comedy at that point in the states.
Why was that?
Well, it was his PR skills, plus the fact that they do treat comedy like an artform over there. They don't treat it like a Chuck E. Cheese wastebasket for washed-up talent.
That bothers me so much. Wrestlers are now doing comedy. Everybody that's washed up -
Kato Kaelin
did comedy. It's such a rubbish bin for failures. Fucking
Terry Bradshaw
- I don't know if it's happened or it's coming, is putting together a Vegas review.
Fucking
Terry Bradshaw
.
In Britain, they have some respect for [comedy]. Which makes it terrifying. Because over here, I can fuck off for a night. If I'm not in the mood, or I'm too drunk, I tell people to fuck themselves for an hour. It's not gonna make national news. Over there, at any given time, any national newspaper could be in there waiting to tell the whole country you suck.
That clip of you getting booed offstage in Leeds - that didn't go so well.
That's why I don't do gigs like that. I play rock 'n' roll clubs. It's not like a comedy club, you don't have fucking bachelorette parties wandering in to see the guy from
Full House
. You know, people come to see me at
Firebird
, they know what they're coming to see.
Hang on for a second. [Says something to his lady friend] Sorry. We're making hummus and pita for fucking Exodus. I wanna find out if this is the guy that draws the dicks on all the walls in the green rooms. Musicians have to be so retarded. Ever since I started working rock 'n roll clubs you sit in these filthy green rooms which is usually the dumbest, most fourth grade graffiti-dicks drawn. Anyway, I don't know what I was sayin.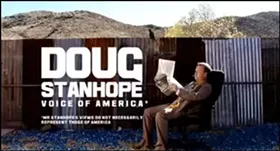 British people -- and how they process you.
Oh yeah, I have a really good following over there. But when you play a music festival - putting comedy in a music festival is like putting a message in porn. It's not the time or the place. Nobody wants to hear it right now.
But they'll go to the comedy tent to get out of the rain. It's emptiest place to kill 45 minutes before
Faith No More
goes on, which they've come to see.
There's no fucking passion for comedy, especially my kind of comedy, which doesn't get to the point right away. It ain't short-attention-span theatre. And if you're not really into it - especially if you're there to have three days of fun and frivolity, and I'm there spewing all sorts of fucking hate and negativity on top of your nice 2CB ecstasy buzz. Yeah. It's gonna work poorly.
But it was a warm-up for London. I knew I was gonna get booed offstage. Who gives a shit? I got booed
onstage
for an extended period of time. So I filled my contractual obligation. And then laughed like a motherfucker on the car ride home.
Stanhope - smoking (again).
One of those English newspapers saw you as continuing the tradition of legends Lenny Bruce and Bill Hicks.
Yeah, I can't get a review that doesn't mention Bill Hicks. It's annoying because I don't think we're that similar, except for that we both talk about social issues. He was a very staid, deliberate act.
I'm fucking gravelly and all over the place. Bill Hicks was in AA for the last eight years of his life. Except for the fact that we might have similar opinions on things, it's just lazy. Coupled with the fact that not a lot of people that do what either of us do. There's a sad lack of comparisons.
One of the greatest things I've ever heard about you is that you tried to run for president as a libertarian.
I tried. I follow politics about like I do baseball. I'll watch the world series peripherally but the regular season - yeah midterms, I don't give a shit. I was never a really political comic at all. I just had some points I felt needed to be made.
But yeah, that running for president thing was so completely un-fun, it was so much bullshit and paperwork. And I was like, 'This isn't funny.' We did all the paperwork. On paper, we were a legit candidate. But if you talk about your act on stage, that's campaigning. So any money you received at the door would be considered a campaign contribution. So it was like, 'Fuck this.'
Image via
Comedy legend Bill Hicks, to whom Stanhope is often compared
You've posted pictures online of your umbilical hernia, which is gross. How is your belly button?
I haven't gotten the surgery yet....but based on
that website update
, some anesthesiologists that are fans in Tuscon said, 'We'll do the anesthesia for free,' and I wrote back, 'Well that's 95 percent of the battle. If you knock me out, I got a dry cleaner that can do the stitching. Or that guy that does my tailoring for my thrift store suits.'
And they wrote back, 'We got friends that are surgeons that will probably waive their fee. So they got the surgeon to waive her fee. I'm just having to pay the hospital costs. So I'm getting that done in December.
It's pretty gross. There's not an hour that goes by that I don't think about it. Any time you pick up your groceries, you go, 'Are my guts gonna come flying out when I pick up this pack of beer?' I've seen some pictures where they go wrong and it's pretty fucking awful.
Google-image search 'umbilical hernia,' and
you'll see
everything from mine to something that looks like babies coming out of them.
Your take on stand-up comic Greg Giraldo's recent death -- that people should be more open about prescription drug use -- was interesting.
I didn't know him. This is kind of a bastardization of my joke from
No Refunds
, but everyone who says, 'Yeah he had so much left to give.' Well, how fuckin' selfish are you? He had so left to give? Well, how about how much he had to
get
? How much he had left to
receive
?
He had stuff to give -- that's like a credit card company saying, 'Aw, it's so sad. He had so much left to pay.'
Giraldo was hilarious. And
Mitch Hedberg
[who died of an overdose] was hilarious. And [Hedberg] was a drug enthusiast. The word 'addict' is way too loosely used. Hedberg fucking loved drugs. He was never some panicky guy, 'Ah, I should get help. I'm really down.' He just, non-stop, loved fuckin' drugs. They killed him, but they didn't really ruin his life.
Then you see his parents doing a charity golf tournament, to benefit a fucking rehab clinic? There was nothing Hedberg hated more than sports. And nothing he loved more than drugs.
You're kind of a drug-enthusiast yourself, no?
I do drugs very rarely. I'm just very open about when I do drugs. I do as much as most people have cocktails.
Occasionally I'll do some blow. If I'm at home in the right circumstances, and the house is clean, and we have mushrooms, occasionally I'll get high as a kite. But if more people were open about their drug use, when it IS social, we'll be a lot closer to legalization. And all the Mexican violence across the border here? All you gotta do is legalization --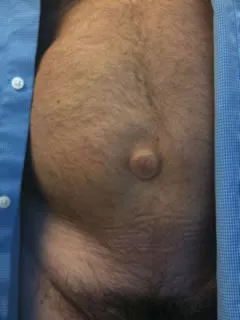 http://www.dougstanhope.com/
An umbilical hernia. Not Doug Stanhope's.
Do you see any of that violence down there?
No....we do have illegals coming through all the time.
You know, the two things I'm waiting to see, because I walk my dog in the desert every day: I've yet to see, in five years, a snake of any kind, much less a rattlesnake. And I've yet to find an illegal corpse. Which they find all over the place. They're as common as snakes I think.
I've seen these wild
javelinas
which are these wild pigs, scary as shit. And footlong centipedes that will scare the shit out of you. But never a snake. Or a body.
Is it a tall order to get people to come visit you down in Bisbee?
When I'm home for a long stretch, it's like 'Come down!' You get to the point where you miss comedy. Comics are such a unique people. Shit, I'd pay
Dane Cook
s' airfare to come down and talk about comedy. Or have that same darkness.
I've trained myself here to take my sense of humor down ten or twelve notches. You can't just openly say 'cunt' and 'nigger' and stuff. Comedy is its own creed, its own religion, its own race. It's all about the joke when you're hanging out with comics. It's all about funny. No one ever used any word or subject in a joke around comics and had another comic say, 'Hey that's offensive.' Doesn't happen.
Like some other comics, you've figured out how to avoid the comedy club system.

I remember the first time I realized it. I was in one of shittiest comedy clubs in Portland, Oregon. Where the club owner would brag about the fact that he didn't have to hire good talent --
to the talent.
It was such a seedy, shitty place, you felt like you should've been wearing a nametag as the artist. You felt like a fucking employee.
If you build up a mailing list - everybody's down on Facebook and MySpace. But it works as a marketing tool. You don't have to fucking make friends with these people. As long as you have direct access to your audience - I can play a fucking VFW hall. Why should I give some fucking comedy club a major cut?
I've played a backyard. Two hundred and fifty people, in a dude's backyard. Everybody was polite and well-mannered, nobody trashed the place. It was in Vegas, so the weather was nice. It was a local comic who couldn't get stage time so usually he was doing 15 - 20 people. So we filled it. And got him evicted.
But the fact is, if you put any small amount of effort into it, you can make your own rules in this business. It used to be comedy clubs - like St. Louis, they had two comedy clubs. Those two managers decided if you're funny or not. That's pretty fucked up.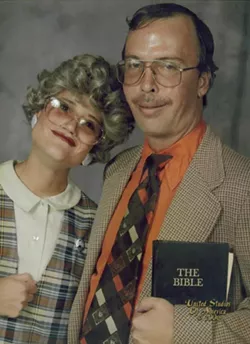 Old-timey Doug and friend.
A lot of quality stand-ups seem to be gravitating to the Firebird, which as you remember from last year, is the basement of an office building.

Yeah, it has a kind of fight-club feel when you're on stage. And you can still smoke, and there are no windows. It's such a better climate. It's such a better sense of chaos.
You know, an
Improv
[comedy club] is comfortable and nice, and they're gonna try to sell you jalapeno poppers to some minimum and they overcharge you. You don't feel like any "improv" is gonna happen at an Improv. A guy is gonna go up and do their set. You drop the checks at 45 minutes into the set and you leave like a movie theatre.
You play the Firebird, you know, somebody could throw a bottle. Someone could get punched or shot in the men's room. People talk back. Somebody's gonna be too drunk and throw up on themselves. It's gonna be fun.