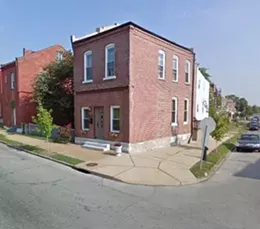 The building as it looks today.
A home in the Benton Park West neighborhood is slated to get a temporary makeover this spring courtesy of about 800 square yards of elastic fabric.
New York artist
Leeza Meksin
is currently raising funds to wrap the residence at Arsenal and Iowa in her favorite media: spandex. Few humans look good in the form-fitting apparel, but what about buildings?
"I think it's easier because buildings have more straight lines, parallels and right angles," says Meksin, whose previous art projects include making a hundred unique spandex leggings for a hundred different people. "People tend to have bulges and imperfections that can make it less visually appealing."
Though don't get her wrong. Meksin remains a huge fan of spandex, even using the expansive textile to create canvasses for her paintings.
"I love the whole gender-bending association of the material," she says. "It's the fabric of drag queens and super heroes. It's a costume."
Meksin has previously wrapped rooftops and other parts of buildings in spandex but has never had the opportunity to cover an entire structure in the stuff -- until now.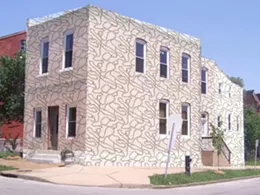 "It's something I've wanted to do for a long time now," the 33-year-old Brooklyn resident via Moscow tells
Daily RFT
. "It's a bit of a play on Christo. Where his buildings look like they're going to a toga party, mine will look like a rock star."
Lauren Adams
, an assistant professor of art at Washington University and friend of Meksin, rents the building at 2733 Arsenal and uses it as an apartment and gallery called
Cosign Projects
. Meksin has designed a pattern of gold chains to print onto the spandex. She hopes the pattern will look like binding and bling -- the house at once flaunting itself to the neighborhood while finding itself bound and gagged.
And what will the neighbors think?
"I want them to feel entertained and excited," says Meksin. "We're going to have a huge party for the neighborhood when the project is complete March 18."
Anyone wanting to support Meksin in her endeavor can make a donation at
kickstarter.com
. The artist has already raised almost half the money needed for the project but still needs another $4,000 or so. Donors through kickstarter.com will be rewarded with a handmade gift courtesy of Meksin -- made out of spandex, of course.