Did we lurve Paul F. Tompkins more on
Mr. Show
,
Tenacious D
,
VH1's Best Week Ever
or his stand-up? No matter. You can catch his act at the Firebird on Saturday night thanks to a new business model: if 300 people on Facebook invite him to their city, he shows up.
Daily RFT
:
Let's talk about you and how you're reinventing the comedy business as we know it.
Paul F. Tompkins
: [belly laughter] Ahhh, yes.
How are the "Facebook 300" shows going?
It's the most tremendous happy accident that's ever happened to me. I could not be more thrilled about booking shows this way. The crowds have been the best crowds of my career, and in almost 25 years of doing this I feel like I've never been as good as I am now.
Are other comics asking you about it?
They're not asking about it. They're just doing it. [laughs] And that's fine, it's not as if I invented this. There are musicians who've been doing this [like
Jonathan Coulton
].
Is there any place you
don't
want to go?

I don't care where it is! If people wanna see me, I wanna go there. The craziest place I've been I think was Halifax, Nova Scotia. Which is really, REALLY far away in Canada. But it was a great night! The audiences were really smart and funny and nice. I hung out and had a drink at the bar and chatted with a bunch of people. And everybody was great!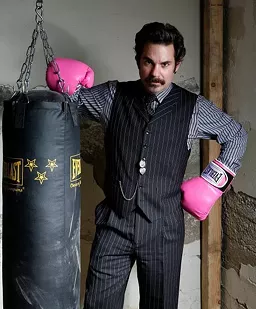 Seth Olenick
Paul F. Tompkins will bust your gut on Saturday! Lit'rally.
Between Facebook, Twitter and podcasts, do comics even need comedy clubs anymore?
The system for guys at my level has not changed at all for a really long time. It doesn't take into account that there are different types of comedians. It presumes that all comics are the same and that they all require the same type and amount of promotion.
Now, with social networking, it gets to the point where you're saying, 'Wait. If I'm doing most of my promotion anyway, it makes sense that I'd have some say in the venues and cities I play.'
I've said this many times, but: the comedy club is really in the bar-and-restaurant business. And the comedian's in the comedy business. So the club is doing the movie theater model, where they make money off other things they sell, and not off the ostensible attraction that gets people in the door.
Consequently, comedians are often (but not everywhere) treated very poorly. They're not treated with respect, by and large.
Even those places that are exceptions, they gotta sell drinks and food. There's an inherent battle between the comedy business and restaurant business. And I just felt like I'd rather remove as much of that as I possibly can and go where the focus is on the show.
If you take somebody like Marc Maron, whom I consider a kind of unheralded genius - his Facebook updates are hilarious, and his podcast has given him this whole new audience he never had before - it's not just a means of promotion: you can DO your comedy on these sites.
Anytime I hear somebody that dismisses it, I just think 'You're stupid. You're afraid of success.' And it IS another outlet [for comedy], Twitter especially. People still complain it's too much promotion from time to time, and they feel the need to let me know, 'I'm unfollowing you because you don't do enough comedy.' And my feeling always is, 'Be sure to get your refund from the Twitter office.'
When you open up your door to 'the world,' you're not always going to get the best people, but it means everything to me that I actually have funny fans. People that actually make me laugh. That's a neat thing.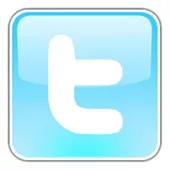 So you've done one episode of the Pod F. Tompkast on iTunes. Gonna do more?
Yeah. The big long ones are gonna be on a monthly basis. Then there will be shorter content in the weeks between.
You've been all over the map lately - roles in
The Informant!
and
There Will Be Blood
, your live theatre variety show, the Comedy Central special in June. Is stand-up your first love?
I love it all, but stand-up definitely is my first love. Since I was a kid, I thought it was the most fascinating thing, somebody standing by themselves telling jokes. And as a kid starved for attention, that was certainly the most attention somebody was getting.
There seems to be a glut of really dry stand-ups these days. But your delivery is theatrical. Was there someone growing up you really looked at?
When I was a kid, I was a big fan of Steve Martin. It was like he was almost doing a play up there. It sounded very written, and not in a negative way. But the other comedians who were conversational, they seemed very cool to me, too. Because they were confident and relaxed. And I was not that
at all
.
So these Facebook 300 shows - how has that brought you out?
Well, I've evolved into a more story-telling-type comedian. And as much as I like telling a a story, I don't want them to be trapped in amber. I want there to be room for them to breathe, and a huge component of it is the emotion behind them. I want people to be in the moment.
At a comedy club, the waitress is going around giving orders and getting the check, and sometimes a table is talking amongst themselves, and I have to make sure it doesn't get out of control. So I'm checked out of the thing I'm talking about, and I'm on cruise-control. Which I just don't wanna be.
What's great about these shows is, there's no distractions.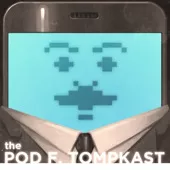 Are you doing stuff from your hour-long Comedy Central special, or Freak Wharf?
No, this is all completely different material.
Have you ever played St. Louis before?
No, and I am REALLY looking forward to playing a place I haven't been before.
In St. Louis, you can still smoke inside some bars and clubs.
Ooh. I hope people won't be smoking at my show.
Wait. The assistant clubs editor just handed me a Post-It note: "They can go non-smoking if he wants it."
Oh good. Because I wants it.
Click here for info on the show.