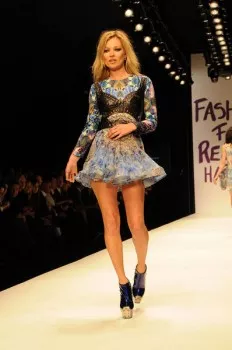 Solarpix PR Photos
Nah, Kate Moss probably won't be there.
The beautiful people are congregating in St. Louis!
Fashion Week
arrives, September 7th to the 11th, bringing runway shows, charity shopping and cool parties to the city. We're so excited around here we're shaking in our stilettos, especially now that the finalists for the
Brown Shoe Project: Design!
competition have been announced.
The six finalists will kick Fashion Week off right: each show their lines at an all-out runway show on Tuesday. Judges will choose the winning designer, who'll get a full spread in
ALIVE magazine
, a professionally-designed website and a "smile makeover" and teeth whitening.
Those finalists:
Blue Bird Denim
by Anna Friss of St. Louis;
Cavortress
by Julie Wheat of Mount Pleasant, SC; Jezebel by Jane Katherine Zacrhitz of Maplewood; Kristin Archibald from Des Peres; Roberto Mendes of Lake Saint Louis; and SSON by Sylvia Sonn of Chesterfield. We can't wait to see your collections!
Fashion Week continues with more runway shows every night. Wednesday, check out a rock-themed show featuring looks for men and women. Thursday showcases Macy's women's line. Get high-end on Friday. Saturday wraps things up with an outdoor event featuring local boutiques.
Go forth, and be fabulous.