photo by Keegan Hamilton
Artists Chris Burch, Justin Tolentino, Bryan Walsh and Kris Mosby and friends outside the RAC.
For the past eleven days, nine St. Louis artists and their friends have been holed up in the
Regional Arts Commission
, located just down the street from RFT world headquarters in the Delmar Loop, working on an exhibition called Screwed Again.
The show -- a follow-up to last year's impressive Screwed In exhibit -- doesn't open until Friday but the process of collaboratively painting a mural on wood panels affixed to the gallery walls (with screws, hence the name) has morphed into a piece of performance art in its own right. The artists are streaming each day's paint session live online.
Here's what's happening right now:
Streaming Video by Ustream.
Things seem pretty tame at the moment, but when we stopped by last week people were arguing over what gets painted where, skateboarding, freestyle rapping, hustling fliers to passers-by, and chugging cold beer like it was 110 degrees outside. (Oh wait, it was actually 110 degrees outside.)
In between bacchanals they've also been making some pretty incredible art. Like this: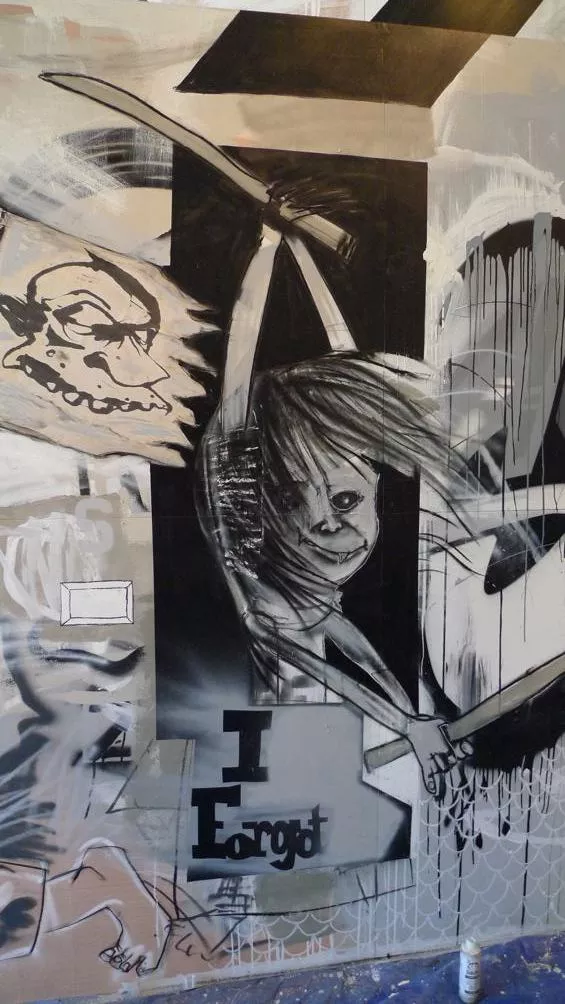 photos by Keegan Hamilton
The artists participating are Christopher Burch, Daniel Burnett, Stan Chisholm, Daniel Jefferson, Kris Mosby, Chris Sabatino, Jason Spencer, Justin Tolentino, Bryan Walsh.
Here are a few more pictures -- and a video of that freestyle rap session referenced earlier: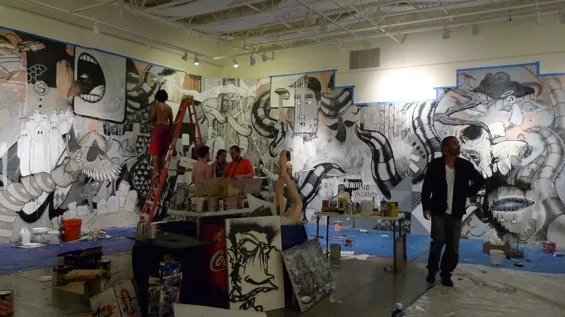 That's Daniel Jefferson on the right and Burch, Walsh and Tolentino in the background.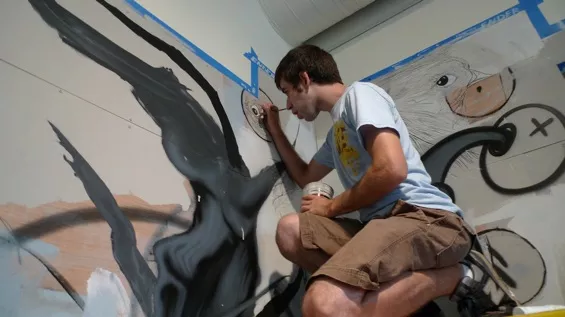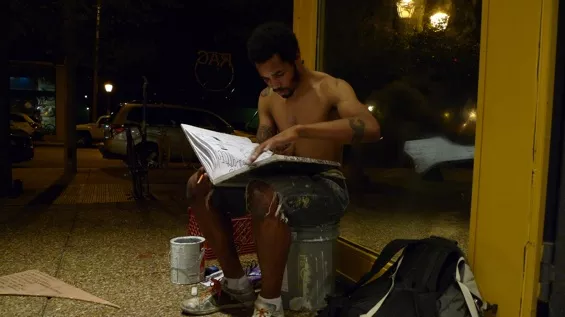 Stan Chisholm, studying sketches
Justin Tolentino, making a list of rules to live by.
Here's
the Screwed Again Facebook page
if you're looking for more info.