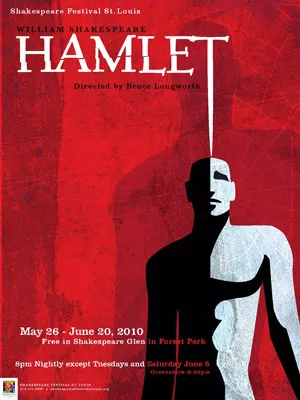 Get you some culture this Memorial Day Weekend, you heathens!
Gorgeous weather this weekend, kids! Combine that with world-class park grounds, timeless verse, and NO admission fee and you have a solution for all those who grumble that they're broke and that St. Louis has no culture: render thee to
Forest Park
tonight (or
practically any night
until June 20) to see the Bard's great masterpiece,
Hamlet
.
Perhaps our own
Paul Friswold
summarizes it best:
It begins as a ghost story, becomes a murder mystery, takes a turn into gritty revenge thriller, detours briefly into a frustrated love story, wanders in the sere wastelands of proto-existentialism and culminates in a series of stabbings.

It's true that this could also describe a drunken night on the Landing. But if you hit the Shakespeare festival, you might still have your wallet the next morning. Official website
here
;
RFT
's coverage
here
.