Once upon a time, the River City had a reputation as something of a street art and graffiti mecca. That was way
back in 2000
when
Paint Louis
was happening and some of the coolest cats to ever shake a can of spray paint made pilgrimages to the city to write their names wild-style on the massive flood wall that runs along the Mississippi River near Chouteau Avenue.
The city canceled the event when tags appeared unsolicited on nearby businesses and warehouses. In the following years, grass grew unchecked by the wall and irreplaceable works of art by the likes of
Zephyr
were mangled by amateur taggers. Meanwhile, thanks to
Banksy
and other incredible stencil artists, street art went worldwide, leaving St. Louis as little more than a distant afterthought in the burgeoning global scene.
But that doesn't mean quality work from local artists stopped happening. In fact, thanks to stencil master
Peat Wollaeger
and other dedicated individuals, the 314 is again gaining notoriety for the innovative and impressive pieces of guerrilla art that add many shades of color to our otherwise monochromatic brick city.
In honor of Banksy's film "
Exit Through the Gift Shop
" opening today at the Tivoli and the graffiti competition going down
tomorrow at 2720 Cherokee
, here are ten of our favorite images, mostly pulled from the
St. Louis Street Art Flickr Pool
.
The incomparable Redd Foxx (aka Ed Box) was named
Best Graffiti Artist
by the
RFT
last year for burners like this one. "Get Up, Get God" is a recurring phrase in his art.
Peat Wollaeger's "Blaster Head" is a mind blower.
You Go Girl
has to be one of the best tag names of all-time. Keep an eye out and you'll see his/her pieces all over the city. This one came from the Near North Riverfront: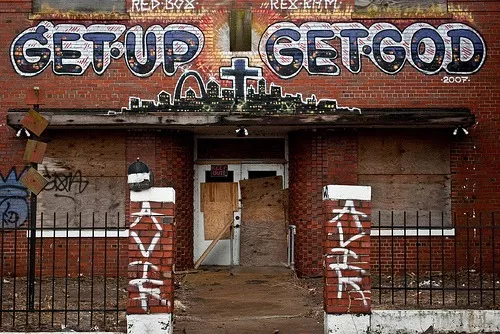 Justin Tolentino
is known more for his dark caricatures painted on canvas and screen-printed on t-shirts but his owl on a garage door on South Broadway near Chouteau's Landing is one of the most visible pieces in the city. It's been painted over a bit recently but this image captures it in its prime:
A piece obviously inspired by Banksy on the Metropolitan building in Grand Center: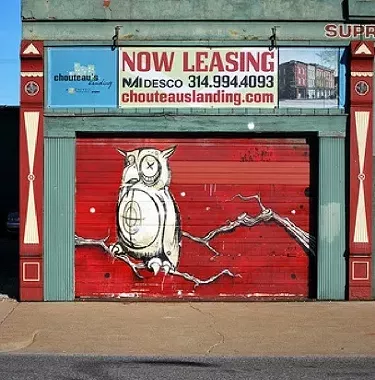 Paris Hilton cries a gold tear over how awesome this stencil is:
Artist
Vesna Delevska
is responsible for this staggeringly beautiful scene: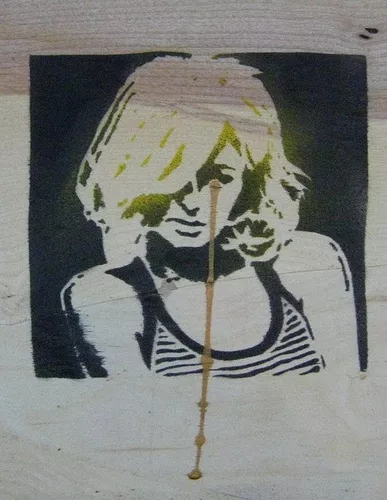 Art on the flood wall may not be sanctioned anymore but very cool things still appear. This is what's there right now by
Like a Beer in Deadlights
(
Jason Spencer
and Justin Tolentino):
Another new one on the Flood Wall, a panda dream: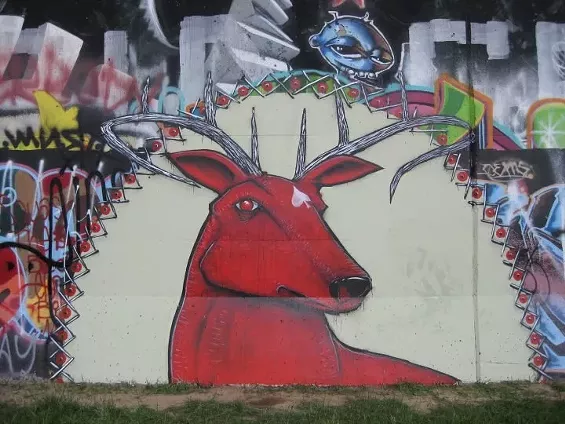 The gold tooth is a subtle touch on this one, which (
correct me if I'm wrong
thanks for correcting me) is by
Stan Chisholm
Justin Tolentino: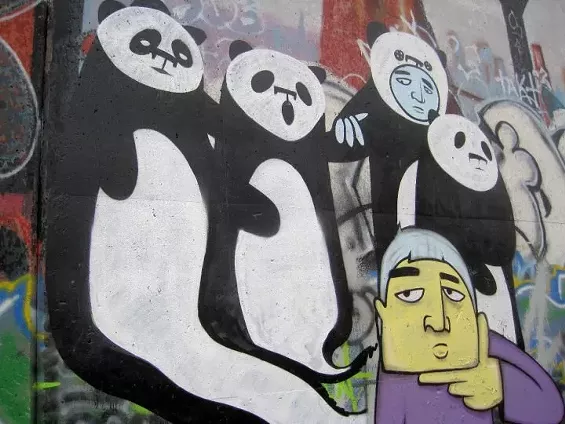 And we'd be remiss to leave off Peat's famous eyes, which lend life to the inanimate: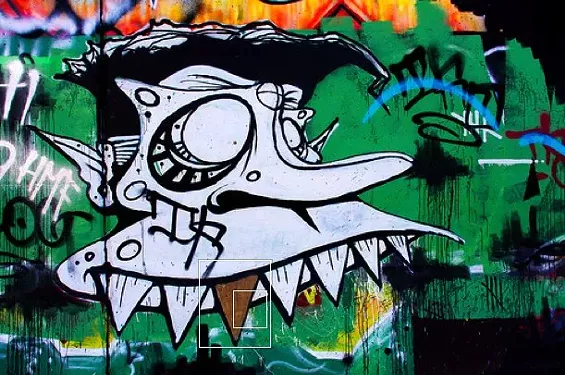 Update 2:54 p.m.:
Totally forgot to mention the efforts by some members of the Board of Aldermen to establish a "Public Art Trust Fund" in conjunction with the Regional Arts Commission. Click
here
to read the full text of the Board Bill, sponsored by Antonio French of the 21st Ward.
The measure actually says that, "The presence of works of art and decorative elements in public places in the City enhances the quality of life, promotes the general welfare, maintains the quality of the environment and property values, and enhances the attractiveness of the City for residents and visitors."
That's a huge reversal from two years ago when the Aldermen penned a bill that produced this headline in the RFT: "
Paintless in St. Louis? St. Louis Alderwoman Donna Baringer wants to treat cans of spray paint like they're handguns
."