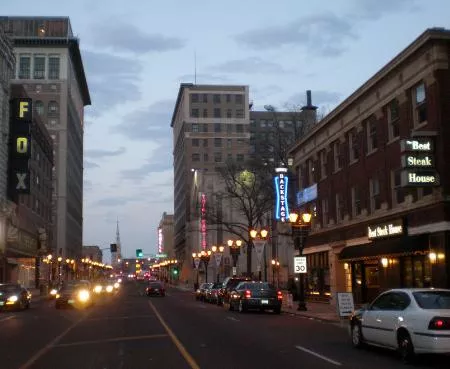 Grand Center at night ... just got a bit more expensive.
The parking meters in Grand Center that used to shut down at 7 p.m. each night (allowing free parking to theater-goers and gallery patrons) have been dialed back to 10 p.m.
The move comes courtesy of
Grand Center Inc.
, the non-profit development corporation for the midtown theater district, that says it wants open up more parking for the area's restaurants.
Since April 1, drivers who don't feed the meter after 7 p.m. have been issued a warning and served with a flier alerting them to the change. The grace period ends May 1. After that, parking scofflaws will get a $10 ticket. Parking rates for the meters are 25 cents per 20 minutes.
As
KSDK reporter earlier this spring
, Grand Center Inc. is partnering with the city in the new parking policy and will get a portion of the revenues from the meters. Grand Center Inc. wants to use that money to build a new parking garage in the district, according to the television station.
Today
Daily RFT
contacted Grand Center. A spokeswoman said she couldn't confirm any plans for a parking garage, but said the money would be used for district improvements. She was going to have a Grand Center official call us later today.
We also talked to
Chris Peimann
, director of marketing for the
Sheldon Concert Hall and Art Galleries
who said her venue (and others she's spoken to in Grand Center) is well aware of the new parking structure and hopes it doesn't discourage visitors.
"We're happy that some of the parking meters will allow you to park for four hours instead of 90 minutes," says Peimann. "That would give people enough time to see a show and stay longer."
In January Grand Center began a $10 valet service that offers people a $5 discount if they get their ticket validated after dining at a restaurant.