Now that the
CityArchRiver 2015
group has whittled down to five the number of teams competing to redesign the
Gateway Archgrounds
, it seemed appropriate to take a peek into everybody's portfolio.
Below
Daily RFT
has collated some images of projects completed elsewhere by each architecture team. St. Louisans can already weigh in with their own ideas via the CityArchRiver's
"community connection" portal
, and will also be able to hear from the teams themselves at
a public meeting
hosted by none other than the sportscaster
Joe Buck
on April 28.
1) The
Behnisch
team, out of Stuttgart, Germany. Here's their most recently completed building, the world headquarters for consumer-products giant
Unilever
, in Hamburg.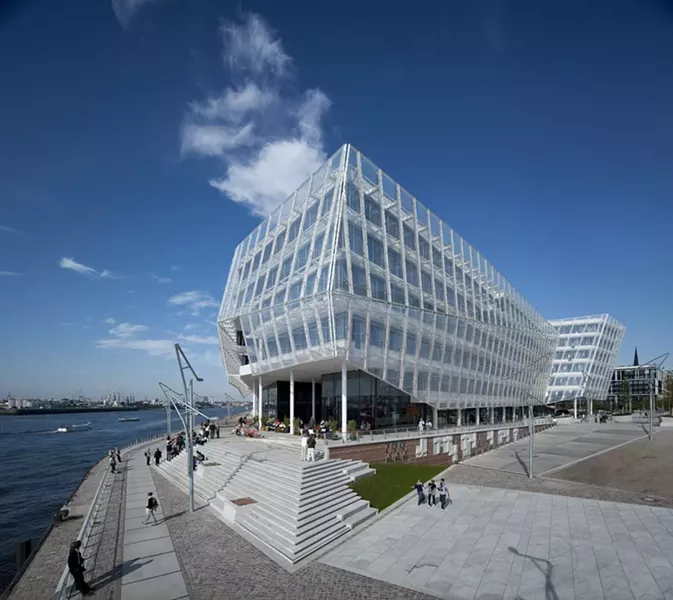 Behnisch
Unilever headquarters - Hamburg - completed in 2009.
​
MMVA
Work-in-progress: Brooklyn Bridge Park.
2) The
Michael Van Valkenburgh Associates
team, from Brooklyn. The architects have been involved in different capacities since 1998 in this makeover of the Brooklyn Bridge Park.
A rendering of the future 9/11 memorial grounds.
3) The
PWP Landscape Architecture/Foster+Partners/Civitas
team. Berkeley landscape designers meet London architects meet St. Louis urban planners in this collaboration. If PWP sounds familiar, maybe it's because they're the landscape designers behind the World Trade Center Memorial in New York.
4) The
SOM/Hargreaves/BIG
team. Another collaborative effort, featuring
Skidmore Owings Merrill
, who did the master plan for the popular Millennium Park in Chicago.
SOM did the master plan for Chicago's Millennium Park.
And finally, 5) the
Weiss/Manfredi
team. This New York-based group has won awards for a Seattle sculpture park occupying an old industrial site.
Weiss/Manfredi
Olympic Sculpture Park at the Seattle Art Museum.