Downtown St. Louis has been the setting for at least
one post-apocalyptic movie
, but on Saturday, fans of another end-of-days flick took the top award at the
Idiotarod
shopping-cart race for their wheels.
Employees of the
City Museum
fashioned their shopping cart in the spirit of
Mad Max: Beyond the Thunderdome
. Building the contraption took about two weeks, says
Daniel Heggarty
, an eight-year employee and welder at the museum.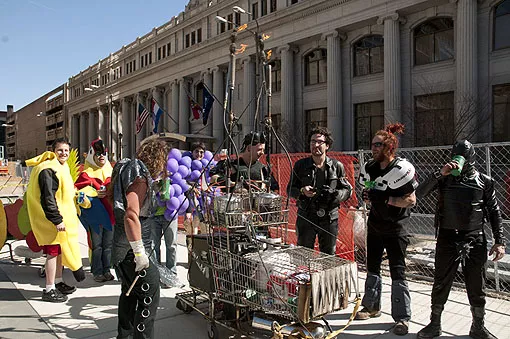 Daily RFT
talked with Heggarty on Wednesday while he took a break from assembling a
Rube Goldberg-inspired machine
on the museum's third floor.
Heggarty says he is among about dozen welders and builders at the museum, and the idea of souping-up a shopping cart for the race seemed like a "perfect fit" for the employees, who build the museum's mostly climb-able, metal sculptures.
Before the race Saturday, the museum's crew stuck out from the rest of the participating teams, who had creative themes of their own -- odes to
Snuggies
, parodies of
politics
and jabs at organized
religion
-- but didn't quite reach the
Burning Man
level of insanity by the museum team.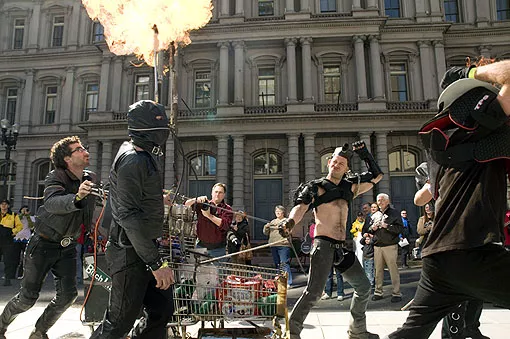 Photo: Kholood Eid
Heggarty (far left) pushes the cart while watching flames shoot from the top on Saturday, March 6 in St. Louis.
Heggarty said of the
Mad Max
theme, "it fit with the shock and awe that we wanted to provide."
And as for the two flame throwers attached to the top of the cart?
"Nothing's more impressive than fire. It's primordial, caveman TV; people stop and stare, it's like a plasma screen in a bar or restaurant today," Heggarty says.
Photo: Kholood Eid
Tying up the gimp before the race.
The five-person team won Best in Show before the the race, but didn't finish. The stereo attached to the cart drowned out the extra credit points announced during the race, the team never got a map (the race was check-point style with no pre-determined route), and the extra equipment (including fire extinguishers) weighed down the shopping cart.
"Pushing it around left me pretty bruised on Sunday," Heggarty says.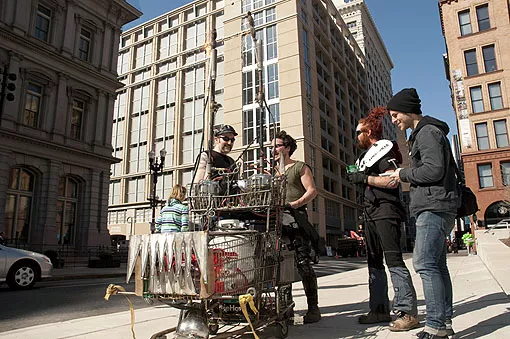 And despite the numerous post-apocalyptic mods on the shopping cart (breaking various rules of the race, Heggarty admits), the one thing the team kept was the wheels.
Yes, the
Mad Max
shopping cart had some Shop 'n Save wheels.
"We'll definitely have better wheels next year," Heggarty says, adding that the team's top priority wasn't winning the race, but to hang out with one another outside of work and have some fun. "We like the process of building," he says.
Heggarty adds that the City Museum team doesn't have plans to disassemble the cart. For winning the Best in Show honor, the five-person group received four tickets to a St. Louis Cardinals game and gift certificate to Mike Shannon's. Guess they'll have to leave the gimp at home for that.