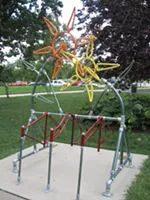 Happen to haul out an
old bike
during your spring cleaning? Don't throw it out.
​
The young artist-apprentices at
St. Louis Artworks (
the
RFT
Best Nonprofit 2006
), are spending the next couple months crafting their nifty
"upcycled"
bike racks -- BoomerRacks -- for the third year in a row. They need 50 used bikes this year.
Each rack has the same base, but apprentices design a new "crown" for each bike rack, depending on the wishes of their client.
Some of the racks are already on view in Forest Park, the Magic House and Trailnet, among other places. This year's constructions will go to Soulard Art Market, the Way Out Club and Belas Artes.
To donate an old bike, or a bike part, drop it off at
3547 Olive St., Suite 280
, Monday through Friday from 10:00 a.m. to 5:00 p.m., or e-mail assistant@stlartworks.org to set up a time.