The weather's supposed to be great this weekend (
with a small chance of rain on Sunday
), so get out there! Here are our suggestions for ten things to do Friday through Sunday that won't cost you more than $10. Looking for local concerts this weekend?
Consult our weekend concert calendar.
Rhyme or Reason with Steve Ewing (Friday)
Somebody is probably just looking at this heap of records in their den right now thinking they should unload them on Sunday at the American Czech Center. You should probably be there to score some.
Rhyme or Reason performs at the Old Rock House (doors open at 8, show at 9.) The cost is $10 flat but here's a $2 surcharge for minors.
Click here for more info.

DJ Felix Cartal (Friday)

Click here for more info.
(Check the
RFT
on Saturday for photos from the party.)
The Idiotarod (Saturday)
The Idiotarod
, a fundraiser for Operation Food Search (of course), transforms the little one-seater shopping cart into a dogsled-cum-noble vehicle. Four-person teams must be attached via bungee cords, rope or something similarly sturdy, then they'll pull the cart (they're disqualified if they ride in the cart) through downtown while one musher spurs them on to victory. To add to the ridiculous nature of the race, every team must have a theme for their cart and then decorate it accordingly -- and each team member must also be costumed to match the theme (no masks allowed, but helmets are recommended). It's free to watch the madness.
Read the rest of Paul Friswold's preview.

Funky Butt Brass Band with Mama Rogers (Saturday)

Ryan Wasoba has more details about the show.
Theodore - HumDrum - Middle Class Fashion (Saturday)
On Thursday we featured some of our
favorite show flyers
on the music blog. Above, you can see one of them. We will be looking for more cool flyers every week, so put you creative hats on. In the meantime, go check out Theodore, HumDrum, and Middle Class Fashion perform a free show at the Schlafly Tap Room (2100 Locust).
St. Louis Zoo (All Weekend)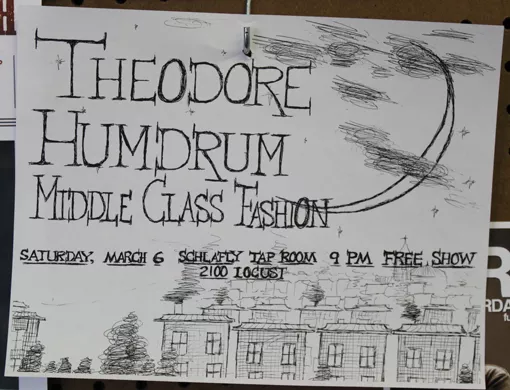 While
there was talk of charging admission
to the Zoo a few weeks ago, luckily for the public, that movement has subsided. With temps forecasted in the mid-50s for this weekend (with a chance or rain on Sunday), it might be a good weekend to hit up the Zoo in Forest Park. General admission is free, as usual.
Mother and Father Worked Hard So I Can Play (Sunday)
Artist Yinka Shonibare examines questions of national identity viewed through Colonialism's fractured lens in his exhibition
Mother and Father Worked Hard So I Can Play
. Shonibare's sculptures of children are "hidden" through disparate eras in the St. Louis Art museum's galleries collection. His sculptures remain on display through Monday, March 14, in five different galleries. Admission is free, and the museum is open every day except Monday.
Click here for more info.
Record Fair (Sunday)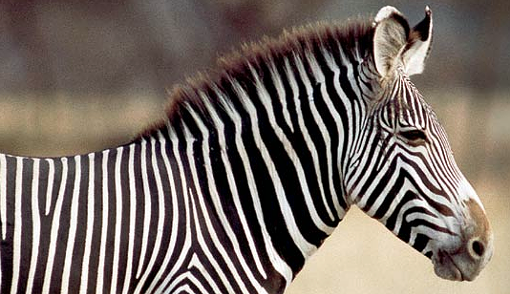 The Saint Louis Zoo: It's free!
Find long-lost versions of LP's you sold off in college (and subsequently, painfully regretted for the rest of your adult life) on Sunday at the American Czech Center (4690 Landowne at Kingshighway). Maybe you won't find the record that you sold for beer money or a trip to Florida, but you might stumble upon something new. The fair runs from 10 a.m. to 4 p.m. Admission is $2.50
Troubadour Dali (Sunday)
The
psychedelic/alternative/pop
band is in residency every Sunday night at the Halo Bar on Delmar. The weekly gig is not to be missed. What's more, it's free. The show is open to those 21 and up though.