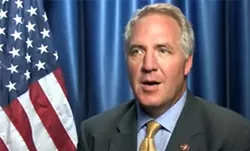 Question: What's worse than classical music?
Answer: Listening to Rep. John Shimkus (R - Collinsville) bloviate on the importance of classical music.
Okay, okay. So classical music ain't
that
bad. I cannot say the same, though, for Shimkus' speech Tuesday before Congress urging his colleagues to
stop the sale
of St. Louis' only classic music station
KFUO-FM
.
Yes, Shimkus is fighting the good fight. But good God, halfway through his drivel I expected
Chuck Barris
to jump out from behind the podium and gong his ass. Take a listen for yourself
here
.