The
Daily RFT
spotted this photo of a "Yarn Bombing" on the Delmar Loop on
Flickr
. For the uninitiated, "Yarn Bombing" is like graffiti, only less permanent and more fuzzy.
The biggest mention of this street art form we could find is in this
Houston Press article
. Basically, two working mothers in their early thirties decide to use their left-over scraps of knitting to decorate a boutique's door handle. They liked the experience and started "tagging" other stuff, adopting the graffiti-culture standard of forming a crew (Knitta), and taking on new identities (AKrylik and PolyCotN).
The trend caught on and soon Yarn Bombings were
showing up worldwide
. Is Yarn Bombing going to become a big thing in St. Louis? More after the jump.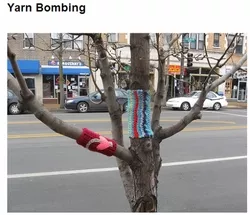 Yarn Bombing, it's like graffiti, only it's not.
An employee at
Knitty Couture
(6148 Delmar Boulevard) -- a knitting and yarn shop with bookcases full of balls of yarn of all colors, textures, and varieties --isn't impressed.
"I don't see why somebody would spend all that time knitting and then just put the thing on a tree somewhere," Matthew Owings says, while doing a little knitting himself.
Have any yarn bombing photos from around St. Louis?
Send us some tips
.