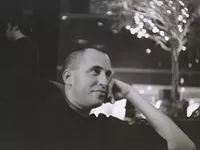 www.bradlands.com
He coined the term 'blogosphere.'
Blogasm...blogarrific...blogviate. Good God, who'd have thought we'd now have some
300
terms of argot employing one of the worst-sounding words ever.
It all started with St. Louisan
Brad Graham
.
Graham, the erstwhile publicist for the
Reportory Theatre of St. Louis
, a prolific writer who began
blogging
all the way back in 2000, and a self-described "man with a multi-megabyte ego," coined the term "blogosphere" a whole decade ago,
according to Wikipedia
.
NPR
waxed poetic
on the subject yesterday:
Graham was joking when he first said it -- at the very birth of the form -- in September 1999. He, too, didn't much like the word "blog" -- "Oy! That name!" he exclaimed on his site, Bradlands. And so he worried about where this would lead us: perhaps to jokes about "falling off a blog," or worse, "blogorreah."

"Goodbye, cyberspace," Graham wrote. "Hello blogiverse! Blogosphere? Blogmos?"

Well, blogosphere stuck.

The news peg here? Graham
died suddenly
, at age 41, earlier this week. R.I.P.