This is the last non-holiday weekend 'til 2010, so get out there and enjoy it! Here are our ten suggestions for things to do this weekend that will cost your $10 or less! Looking for live music? Here's our
weekend concert calendar
.
We're taking the high road and avoiding any "naughty" or "nice" wordplay here, but feel free to use it liberally if you attend this event.
Inflatable Suit Performance Tour at the Gateway Arch (Friday afternoon)
It's not all that unusual this time of year to see a big fat guy walk by wearing a red suit. But rarely do you see just a big fat red suit walk by -- so take advantage of Jimmy Kuehnle's appearance today. The performance artist (and St. Louis native) is currently wrapping up his Inflatable Suit Performance Tour, and he visits the Gateway Arch (707 North First Street;
www.jimmykuehnle.com
) today at noon (unless the weather's bad; then he'll visit on Saturday, December 19), and yes, "inflatable suit" means pretty much what you think it does. Free.
Read the rest of Paul Friswold's preview here
.
Anheuser-Busch Holiday Lights Tour (Friday)
For the first time ever this year, you can enjoy a free, guided tour of Anheuser-Busch's holiday lights. Meet at the Anheuser-Busch Tour Center (1127 Pestalozzi Street; 314-577-2626 or
www.budweisertours.com
) between 6 and 9 p.m. on tonight (Friday). Free.
Read the rest of Nicole Beckert's preview here
.
Vom Fass Wine Tasting (Friday)
Only the second
Vom Fass
retail location in the country (the other being the Madison, Wiconsin location) holds its soft-opening Friday and its grand opening on Saturday. The store is one "where the time-honored European traditions in crafting gourmet culinary condiments, fruit vinegars , exquisite oils, selected wines, exotic liqueurs and fine and rare spirits, all sold straight from the cask, are revered." The wine tasting is free and runs from 4 p.m. to 7 p.m. Vom Fass is located at
7314 Manchester Road
in Maplewood. For questions call 314-932-5262.
Jimmy Keuhnle brings his fluffy performance art to the Gateway Arch Friday.
Asma Kazmi exhibition at Webster's Cecille R. Hunt Gallery (Ends Friday)
On a recent visit to New Delhi, India, artist Asma Kazmi looked very closely at the city's disabled population not out of rudeness or curiosity, but wonder and admiration. Without having access to advanced prosthetics or wheelchairs, these people rely on their ingenuity to overcome their physical differences, crafting their own replacement limbs from whatever's at hand and building remarkable hand-cranked scooters from discarded bicycle parts. Kazmi interviewed these builders on camera about their creations, but only shows them from the neck up, allowing the focus to remain fixed on the person and not the disability. Kazmi's work is on display at Webster University's Cecille R. Hunt Gallery (8342 Big Bend Boulevard; 314-968-7957 or
www.websterhuntgallery.blogspot.com
). Kazmi's work remains up through Friday, December 18, and the gallery is open Monday through Saturday. Read the rest of
Paul Friswold's preview here
and
read Jessican Baran's review here
.
Funky Butt Brass Band at Off Broadway (Friday)
St. Louis and New Orleans may be separated by 700 miles, but the cities have plenty in common: French ancestry, lapsed Catholics and competitive overeaters. Of course, both towns have long fostered jazz and blues music scenes, and every now and then a band comes along to fuse the two traditions. Like the Funky Butt Brass Band, whose lineup features members of Gumbohead, the Feed and Musica Slesa. the FBBB play at 9 p.m. Friday night for $8 at Off Broadway (3509 Lemp Avenue).
Read the rest of Christian Schaeffer's preview here
.
Accumulated Enemies at Hoffman LaChance Contemporary (Friday & Saturday)
If you're in the mood for a quick art fix, get to Hoffman LaChance Contemporary (2713 Sutton Boulevard, Maplewood; 314-960-5322 or
www.hoffmanlachancefineart.com
) between 6 and 10 p.m. for the opening reception for the group show
Accumulated Enemies
. All of the work relates to the theme of "imagined worlds," with an emphasis on absurdity and humor. It may not be the most seasonally appropriate show out there -- and that's not necessarily a bad thing -- but this is the time for the making of lists both naughty and nice. Free.
Read the rest of Paul Friswold's preview here
.
Jumbling Towers at Off Broadway (Saturday)
Jumbling Towers -- one of this city's most promising, if occasionally off-putting, indie bands -- is finally ready to come out of its long hibernation. The band's carnivalesque keyboards, thumping rhythm section and Joe DeBoer's manic vocals are alternately beguiling and unsettling, but they're always worth checking out. The band plays at Off Broadway (3509 Lemp Avenue) for $10.
Read the rest of Christian Schaeffer's preview here
.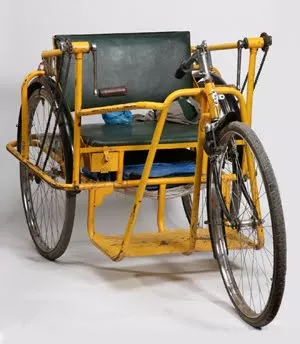 The collection of Asma Kazmi's photographs ends its run in St. Louis on Friday.
Karaoke! (All Weekend)
Even if you belt out tired, flat renditions of "Born in the U.S.A." or "Sweet Home Alabama," your friends will still slap you on the back and still say they liked your version better than the original. There are
80 places to sing karaoke in St. Louis
. Find one that suits you this weekend.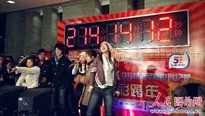 This image is titled "China Karaoke World Record" and is a pretty cool-looking photo. Set your own record for karaoke effort this weekend.
Sexy Santa '09 Party at Sol Lounge (Saturday)
Something for everybody, that's what I always say about this ten-fer-ten-bucks blog post. So on Saturday night, for $10 at the door, gain access to this Sexy Santa Contest at
Sol Lounge
in Midtown (4239 Lindell Boulevard.) And what holiday season is complete without one of these parties? Says one of the promoters: a $40 all-you-can-drink offer also exists. Now, you fiscally minded reader of this blog post, you may instead choose to get housed at home and walk to the club, but if you're so inclined, there's also this liquor-buffet option.
More information, including a flier, is posted here
.
Fusion Grand Opening (Saturday)
The former location of Club Buca on Laclede's Landing holds its grand opening on Saturday night. The cover at Fusion (
707 Clamorgan Alley
) starts at $5 (if you're not on the guest list, natch) and goes up from there. The club is offering drink discounts (free from 8 p.m. to 9 p.m. and $2 from 9 p.m. to 11 p.m.) DJ Robbie G will be spinning records, or clicking buttons on his laptop. The club manager also tells us that on Friday, the cover is $5 and "ladies free." So there you go.
A flier and more info is here
.
And here's a bonus, eleventh option to end your weekend!
Buffalo Bob Blues Band at Backstreet Jazz & Blues (Sunday)
Sunday nights at Backstreet Jazz and Blues in Westport Plaza always feature a laid back night of blues from both veterans and newcomers to the local blues scene hosted by Buffalo Bob and the Bedroom Blues Band. The intimate surroundings of the club offer the perfect backdrop to an unscripted night of blues jams in a loose, fun atmosphere. Shae Moseley has more details here.