Cinema St. Louis
on Wednesday announced the line-up for the
St. Louis International Film Festival
(tickets go on sale today), and lo and behold, one of the featured films tells a tall tale about a legendary albino farm out near Springfield.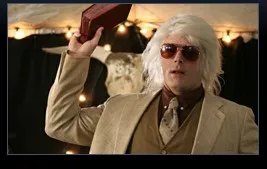 Yes, an albino farm. The property on the outskirts of Springfield, a.k.a. the Springlawn Farm, was cultivated in the late nineteenth century by a prominent farming family whose admirable animal husbandry drew visitors from far and away. As generations passed, the property apparently deteriorated.
Legends have it that the property either a) ended up in the hands of two old sisters who were looked after by a crazy albino caretaker or b) ended up inhabited by an all-albino family. Legend also has it that whacked-out medical experiments on albinos were conducted in an underground "hospital" at the house.
Awesome, right?
The house burned down
to the foundation
in the late 1970s. Yet rumors of albino ghosts haunting the property persist.
Filmmakers
Joe Andersen
and
Sean McEwen
(a Missouri State grad) came up with a story based on the legends, and they're offering it up in
Albino Farm
.
The movie will screen at SLIFF on -- guess? -- Friday, November 13.