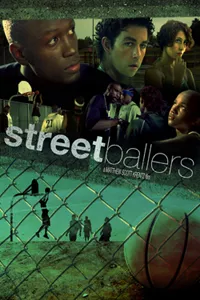 If you haven't read it yet, this week's
RFT film feature
is on
Streetballers,
a movie shot right here in St. Louis.
The film has picked up all kinds of awards since debuting at film festivals last year.
Streetballers
might best be described as a Shakespearan drama -- complete with duplicitous friends, furtive love interests and, yes, ghosts. There's also lots of great basketball and stunning cinematography. (Read a complete review of the film
here
.)
Streetballers
is the brainchild of writer/director Matthew Krentz, a Webster Groves native, and stars all kinds of local basketball talent, including former Vashon and Mizzou stand-out Jimmy McKinney.
The movie opens Friday at the Tivoli in the Loop and Ronnies 20 in south county. Krentz and his production staff are counting on big hometown crowds at the theaters this weekend to help propel
Streetballers
into other markets.
So, got plans for this weekend? If not, check out
Streetballers
. You won't be disappointed.
Watch a trailer of the film (featuring music from the St. Lunatics) after the jump.