It's a good time to be David Robertson right now.
Not only has the
Saint Louis Symphony Orchestra
music director been nationally-lauded for his superior
singing and kazoo-playing
, he has his musicians for another four years, thanks to a remarkably-peaceful
labor agreement
earlier this week.
And now Robertson and the SLSO will be honored today at the
League of American Orchestras
convention in Chicago with an ASCAP Award for Adventurous Programming. The SLSO took the first-place award for Programming of Contemporary Music in the "Expenses More Than $14.1 Million" division (that's the largest division, by the way) and the $3,000 prize.
"Contemporary", according to the award guidelines, means anything composed after 1984. This past season, the SLSO performed works like John Adams' 2001 "
Guide to Strange Places
", Kaija Saariaho's 2007 "
Mirage
" and, perhaps most celebratedly, Howard Shore's "
Lord of the Rings Symphony
" with singing in Elvish.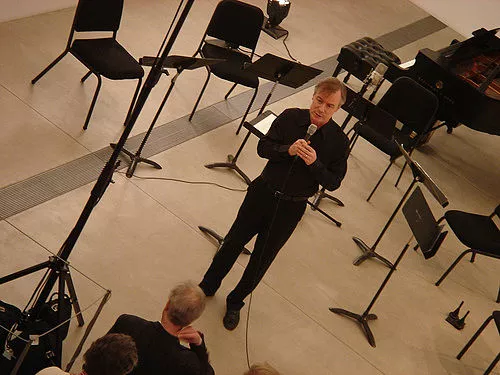 flickr.com/photos/thepulitzer
Robertson at Powell Hall.