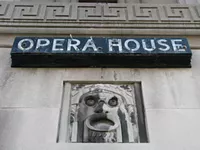 flickr.com/photos/dduckworth
Ed Golterman
, your ship has come in.
This morning, the St. Louis Board of Aldermen
approved a plan
to subsidize $29 million of the $74-million redevelopment plan for the Kiel Opera House. The city's money will come from an amusement tax on Blues hockey tickets.
Developer SCP Worldwide, owner of the Blues and Scottrade Center, are also seeking $29 million in state and federal tax credits.
Read more about the redevelopment (plus see incredible photos of the Kiel being built back in the 1930s) at blogger Michael Allen's
Ecology of Absence
.